How to Import from China to Australia
|
Your Complete Guide
If you plan to import from China to Australia, but don't know where to start, worry not.
This guide covers all the aspects you need to know about importing products from China.
You'll learn how to import goods from a supplier in China and the requirements to fulfill.
That said, let's get started!
1. How Can You Import Goods from China to Australia?
Outsourcing products from China to Australia might seem challenging if you have never imported anything from this Asian country.
Follow the steps below to import goods from China.
Step 1: Familiarize Yourself with Local Import Tariffs
As an Australian, you need to familiarize yourself with the local tariffs, quality standards, and certification requirements for goods entering Australia from China.
Trade barriers like import tariffs can reduce your profit margins when high.
Step 2: Look for a Reliable Supplier or Manufacturer
If you live or run your business in Australia, choosing a legitimate supplier or manufacturer in China can be challenging. The Chinese market is also full of scammers.
Before placing an order in any Chinese company, perform a background check to ensure legitimacy. You can perform a quick search online.
Step 3: Communicate Your Product Requirements
Let the Chinese supplier know what you want your products to look like. Ensure that they understand the quality requirements in Australia's market.
You can even request a pre-shipment inspection to verify the products' quality.
Step 4: Hire a China-Based Freight Forwarder
Once you agree on the payment term with the Chinese supplier, please make the payment and let a reputable freight forwarder like Winsky Freight take it from there.
We will get the goods from your Chinese supplier, verify them, and send them to you.
2. What Is the Most Convenient Method to Transport Goods from China to Australia?
You are probably aware of the three popular shipping methods: air freight, sea freight, and express shipping. You can import from China to Australia using any of the methods.
Importing Chinese Products into Australia by Air Freight
As the fastest transportation mode, air freight ensures that you get your goods on time.
It's the best way to import highly perishable and fragile goods that need careful handling.
However, this freight method is only cost-effective for transporting lightweight products.
If your goods' weight exceeds 100 kilograms, the chances are high that you'll pay more.
You can import Chinese products from the international airports in Beijing, Hong Kong, Shanghai, Wuhan, and Chengdu to Australia's airports below.
Sydney Airport, New South Wales
Perth Airport, Western Australia
Gold Coast Airport, Queensland
Cairns Airport, Queensland
Darwin International Airport, Darwin
Importing Chinese Products into Australia by Sea Freight
Sea freight is another reliable way to import commodities from China to Australia.
With this shipping method, vessels transport goods from one of China's seaports to the destination seaport in Australia through the sea or ocean.
The commodities can be put in shipping containers and then loaded on the vessels.
Sea freight is advantageous when transporting heavy or bulky goods.
However, your imports can take longer to arrive in Australia than air freight.
China's main seaports include:
Port of Shanghai
Port of Shenzhen
Port of Ningbo
Port of Qingdao
Port of Tianjin
Xiamen Seaport
Australia's main seaports include:
Port of Brisbane
Port Botany (Port of Sydney)
Port of Melbourne
Port of Fremantle
Port of Darwin
Importing Chinese Products into Australia by Express Freight
This shipping method is suitable for smaller shipments weighing less than 100 kilograms.
Although it's the fastest shipping method, be ready to pay more than standard air freight.
The following companies offer express shipping from China to Australia.
DHL
TNT
FedEx
UPS
EMS
SF Express
China Post
3. How Can Winsky Freight Help You Import Products?
Whether you plan to import goods by sea freight, air freight, or express shipping, consider hiring a trustworthy freight forwarder to help you with the logistics.
The good news is that Winsky Freight can help you arrange for shipping from China to Australia once you pay the supplier.
Here are the reasons to import goods from China to Australia with Winsky Freight's help.
Competitive shipping rates from over 100 freight carriers
Excellent customer services from highly-trained logistics experts
Efficient and seamless customs clearance process in China and Australia
Safe and timely deliveries to ensure you get goods in good shape and on time
Better relationship with sea/air carriers in China, Sydney, Brisbane, Melbourne, etc
4. What Are the Best Things to Import from China to Australia?
You can import several products from China to Australia, including electronics, furniture, shoes, clothes, toys, and prefabricated construction materials.
The most imported commodities in Australia are electronics. In 2021, the total import value for electrical and electronic equipment took the lead with US$14.90 billion.
If you plan to invest in import business in Australia, you first need to import a few goods to test how the items perform on the market.
Are you able to make sales and earn profits?
Import large quantities of the goods when they do well on the market.
5. Which Imports Are Restricted and Prohibited in the Australian Market?
The government of Australia restricts and prohibits the entry of some imports into the country to protect its citizens.
Restricted Imports in Australia
To import a restricted product to Australia, you must acquire special permits or licenses from Australia's federal government.
Here are examples of restricted imports in Australia.
Alcohol
Children toys
Groceries
Tobacco and cigarettes
Food and beverages
Health and cosmetic products
Tea and coffee
Pro Tip: Failure to fulfill the government's regulations on restricted items may attract penalties. Ensure that you familiarize yourself with the list.
Prohibited Imports in Australia
Any prohibited product must not enter Australia.
Otherwise, you'll pay hefty fines to the Australian Border Force.
Here are examples of prohibited imports in Australia.
Asbestos
Biological agents
Hazardous products
Medicine and drugs
Weapons and firearms
Consumer products
Intellectual property and cultural items
Pro Tip: As an importer, you must review the list of prohibited imports more often because the government usually updates it after some time.
6. What Must You Do Before Importing Goods from China into Australia?
If you want to invest in the import business, you must look for a product that generates high returns.
The following tips will help you import items from China to Australia with no struggle.
Compare Deals from Multiple Suppliers
Contact several suppliers or manufacturers in China and compare their deals. That will help you identify the best deal from a reliable supplier.
You can create a list of potential manufacturers or suppliers and compare their prices, product quality, and customer service.
Verify the Supplier's Credentials
When you search on the internet, you'll discover that all suppliers claim to be the best.
However, you must verify the claims by running a background check.
You can visit the suppliers' premises in China or perform a Google search.
Some of the vital credentials to look for include:
Business license
Contact information
Production certifications
Supplier's physical location
Video of company's operations
Comply with Australia's Standards
Before importing anything from China to Australia, you must ensure that the goods fulfill the Australian regulations and standards.
Check if the supplier in China has all the compliance documents required by Australia's authorities.
Once you've selected the best supplier and verified their certifications, request a prototype of the item you plan to import.
With the prototype, you'll be able to evaluate the product's quality and compliance with Australia's standards.
Evaluate the Import Costs
How much will you spend to import goods from China to Australia?
Pay close attention to the transit time, delivery method, freight charges, taxes, and duties.
7. How Long Does Importing Goods from China to Australia Take?
Your goods can take 5-7 days with standard air freight.
However, your goods will take around 3-5 days to arrive in Australia when you import by express freight. It is the fastest transportation method from China to Australia.
Sea freight cargo will take about 25-45 days to move from China to Australia.
8. What Are the Import Costs to Incur from China to Australia?
You must declare all imports to the Australian Border Force.
You'll also have to pay the import taxes and duties to Australia's authorities.
Here are the taxes, duties, and charges you will likely incur.
Goods and Services Tax (GST)
Most imports in Australia are subject to goods and services tax (GST), whether a company is GST-registered or not.
So, if you import any product from China, expect to pay a GST of 10 percent
Here is how to calculate GST:
GST is 10 percent of the total shipping cost, including customs value, customs duty, shipping insurance, and freight charges to Australia.
GST = FOB Price (Customs Value) + Freight Costs + Shipping Insurance + Customs Duty
Import duty rates range from 0% to 10%. However, most imports from China to Australia are subject to an import duty of 5 percent.
Import Duty = 5% of Customs Value
For example,
If you import an item worth AU$5000, you'll pay an import duty of AU$250.
It is not a percentage of the customs value but a fixed cost.
For example,
If the customs value ranges from AU$1,000 to AU$10,000, you'll pay an import processing charge of:
Electronic Declaration: AU$50
Manual Declaration: AU$90
However, if the FOB value is over AU$10,000, you'll pay an import processing charge of:
Electronic Declaration: AU$152
Manual Declaration: AU$192
It includes the unit price, export clearance cost, and transportation to the loading port.
However, customs value does not include shipping insurance and freight to Australia.
9. What Are the Quality and Safety Standards for Australian Imports?
All imports entering Australia must conform to Australia's quality and safety standards.
The Australian Border Force monitors the standards to ensure that all imports comply.
If you violate the standards, the authorities may confiscate the products, deny entry, or withhold your business permit.
Australia uses the Australian/New Zealand (AS/NZ) regulations to evaluate the standards of imports from China.
Before you import anything from China to Australia, ensure you understand all the laws associated with the AS/NZS laws.
Here are the provisions in the AS/NZS laws.
All the products entering Australia from China must contain proper labels
Imports must be tested in the lab to verify their compliance with the set standards
The products' design and construction must comply with Australia's requirements
Pro Tip: Before importing any product from China to Australia, visit the Australian product safety website to check the applicable safety regulations.
10. What is the Australian Customs Procedure for Goods Entering the Country?
Whenever you import products from China to Australia, your goods must pass through customs for quality standards verification and payment of customs duties.
Once your goods arrive at an Australian seaport or airport, Australia's customs officials will verify the import documents to ensure everything is correct.
The officials will then calculate your duties and present the amount to you.
You'll pay the duties through your most convenient payment system, and the officials will provide you with a customs clearance certificate.
Once that is done, you can collect your goods and transport them to your preferred final destination in Australia.
If the process seems tedious, consider hiring the most trusted freight forwarder to take you through the entire process.
11. Which Documents Do You Need to Import Goods from China to Australia?
Importing goods from China to Australia involves a lot of paperwork.
Here are some of the documents you need to ensure a seamless importation process.
Certificate of Origin: Serves as proof that the imported goods were sourced in China. It contains details about the exporter, importer, product description, product quality, and transportation method.
Commercial Invoice: Specifies the value of imported goods from China to Australia. Customs officials use this declared value to calculate the goods' import duties. This document provides details of the product's description, quantity, and HS code.
Bill of Lading: Serves as evidence that the shipping line or freight forwarder received the imports for transportation from China to Australia. It contains the goods' description, weight, volume, category, and loading port.
Import License: Regulatory bodies issue import licenses with the details about the product's country of origin, weight, quantity, and description. The license also specifies the payment method, importer's name, and exporting company.
Packing List: Serves the same purpose as a commercial invoice but provides additional information about a shipment. Its primary objective is to inform the relevant authorities and agencies about a consignment's contents.
Letter of Credit: This formal agreement binds an Australian importer and a Chinese exporter to international trade transactions. It specifies the financial responsibilities of the parties involved. As an importer, you can get this document from an exporter.
Proof of Import: Once the customs officials in Australia complete the document verification process, they will provide you with proof of import. This document is proof that your imported products have fulfilled the customs rules and regulations.
12. What Is the Cost of Importing from China to Australia?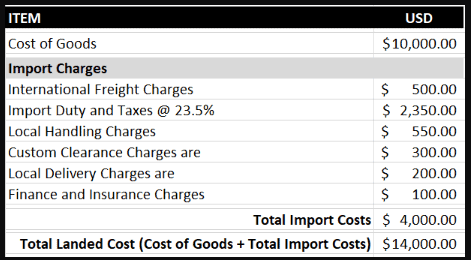 Besides the products' actual prices, you must be ready to incur additional costs, including:
Freight Charges: The amount of money you pay to transport goods from China to Australia. The charges are based on the cargo's size and weight. For LCL, you may pay $150-$250 per cubic centimeter.
Free On Board (FOB) Price: The cost of processing the cargo until it's loaded on the ship. It includes export clearance, transportation to the port of origin, and the unit price. All of these contribute to the customs value.
Taxes and Customs Duties: The taxes and customs duties imposed by Australia's authorities can also contribute to the overall costs. You'll pay a five percent duty and a 10 percent GST (Goods and Services Tax) for products leaving China for Australia.
13. Which Mistakes Must You Avoid When Importing Chinese Products to Australia?
Importing products from China to Australia may come with a few risks that can be costly.
Unfortunately, many Australian importers have made costly mistakes during importation.
Here are some of the mistakes you must avoid at all costs.
Choosing the Cheapest Option
Cheap products can be enticing but costly in the long run.
While low import prices can increase your profit margins, the chances are high that you'll get a low-quality product.
Most scammers also lure unsuspecting buyers with low prices.
Pro Tip: Perform an extensive background check about a product before placing an order. Consider sourcing the products directly from manufacturers to enjoy real low prices.
Rushing the Importation Process
All importers always wish to receive their goods as soon as they order them from China.
Some people may even ask the manufacturer to hasten the delivery process.
Unfortunately, the manufacturers may compromise a product's quality to meet your demand for quicker deliveries.
Pro Tip: Be patient and give the manufacturer time to prepare your deliveries without skipping the quality control phase. That way, you'll receive high-quality products.
Miscalculating Import Margins
Importing products from China to Australia involves many costs, including customs duties, freight charges, insurance, taxes, and the product's actual price.
Unfortunately, most importers forget to add all the costs when calculating the overall cost price of importing a particular product.
Pro Tip: If you have trouble calculating the import costs, hire the best freight forwarder to help you calculate the import costs.
14. Which Incoterms Can You Use to Import from China to Australia?
An incoterm is a formal agreement between the exporter and importer. It specifies who will cover particular costs during shipping.
Most importers use the following incoterms.
Ex Works (EXW): Here, it's the seller's responsibility to deliver goods from China to the buyer's preferred location in Australia. However, the buyer pays for the transportation costs. The buyer takes the responsibility upon receiving the goods.
Costs Insurance and Freight (CIF): If you plan to import fragile goods, it's imperative to insure them against possible damage. That's achievable when you choose the CIF incoterm. The seller will take an insurance cover for the goods.
Free On Board (FOB): Most Australians importing goods from China use the FOB incoterm. The supplier in China delivers the goods to a port in China and oversees the goods' loading onto a shipping vessel. The seller's responsibility ends there.
The first step in importing an item from China to Australia is to figure out the logistics and understand how every step works.
Go through Australia's safety and quality standards regulations to ensure that your imports comply with the set standards, if you get any question about import from China to Australia, pls feel free to contact us for more help.