ONE-STOP TRANSPORTATION SOLUTION
FROM CHINA TO POLAND
AIR & SEA FREIGHT, RAILWAY FREIGHT
DDU/DDP DOOR TO DOOR DELIVERY
Shipping from China to Poland
Winsky Freight has been specializing the shipping from China to Poland since 2008, our main shipping service includes Air freight, Sea freight, and railway freight door-to-door from any city of China to Gdańsk, Poznań, Cracow, and Warsaw, etc port to port or door-to-door delivery service. Providing economy shipping from China to Poland, on-time and efficient delivery service for customers.
With Winsky freight shipping services, you can get: The best route to get your products to the Poland market, full compliance with all applicable regulations, Established relationships with top ocean and air carriers, Smooth handling between freight and brokerage, shipping from China to Poland has never been easier, contact us for the best shipping cost today!
Your Trustful Freight Forwarder from China to Poland
Air freight shipping from China to Poland
The Air freight we offer from Shenzhen to Rzeszow, Krakow, Katowice, Lodz  and so on airport in Poland, cooperate with EK, HX, KU, MH, OD, SQ, TG, UL, and other airlines, the air freight time from China to the Poland is about 3-5 work days. Winsky works with carefully selected carriers, providing reliable and hassle-free air freight options. This includes airport to airport, airport to warehouse, door to door, or any other combination of air freight that you want. We will manage your goods from China via air freight until it reaches its destination in Poland.
Sea Freight China to Poland: 
We specialize in Port-Port and door-to-door sea freight from the mainland, China to GDANSK PLGDA, DARLOWO PLDAR, HEL PLHEL in Poland and provide extra import custom clearance, tax service, the sea shipping transit takes about 18-25 days. The service includes costs such as ground handling, fuel, security check, bill of lading fee, etc. For the door-to-door delivery from the port of China to the Poland, we can reach more than 5 port cities and have strong customs declaration ability to for shipping from China to Poland,  you do not need to provide any additional documents except the packing list and commercial invoice.
Express shipping from China to Poland
We do Express delivery from China to all the cities in Poland, kindly note the Express service is not included the import tax and customs clearance service, Express air freight takes about 3-5 days. The Express we offered is affordable, safe, and efficient, The Express Company we cooperate is ups, EMS, FedEx, DHL, TNT, as the international express regional agent in Shenzhen, we could offer very cheap Express are freight price from China to the Poland.
If you are looking for the fastest way to ship from China, Winsky has an efficient door to door delivery system that ships and delivers goods as quickly as you want. With our express shipping services, your goods will be delivered to designated addresses in no time with TNT Fast Shipping, DHL, UPS, and FedEx that ensures fast international delivery.
Amazon shipping from China to Poland
For shipping to Amazon in Poland, we know how important it is to ensure that the products you import are of extremely high quality. Winsky offers a professional and personalized service where everything's tailored as per your requirements. We have a team of specially trained staff that looks after Amazon shipping. From free import tax to custom clearance, and door to door delivery, Winsky will ensure that you get a personalized shipping channel that is fast, time-saving,  and reasonably priced.
FAQs for Shipping from China to Poland
How long does it take to ship from China to Poland?
EmmayipWF
2022-12-06T20:46:55+08:00
Depending on the freight type you have chosen, Ocean freight from China to Poland may take about 35-50 days door to door depending on the weather conditions. The shipping companies may include MSK, HPL, COSCO, and Carrier APL. If you choose air freight, the delivery time may take about 5-7 work days. They include air freight by ZH (transit SIN airport), SQ, HU (transit MEL airport), and FD (transit DMK airport). And if you choose express delivery services like UPS, DHL, TNT, FedEx, etc., the delivery time is about 3-5 work days.
Shipping from China to Poland Process:
Shipping from China to Poland | A Comprehensive Guide in 2022
Shipping from China to Poland is a complex process that can be overwhelming if you don't know what you're doing. There are many things to consider, and it's easy to make mistakes.
For this reason, we thought of making a detailed guide on shipping from China to Poland. This article will help you understand the process and outline some things you need to know before shipping from China to Poland.
1. Available shipping modes from China to Poland.
The first commercial route between China and Poland was constructed in the nineteenth century. With the building of the first highway linking the two nations in the 1980s, the trade route was re-established. China built the Sino-Polish expressway.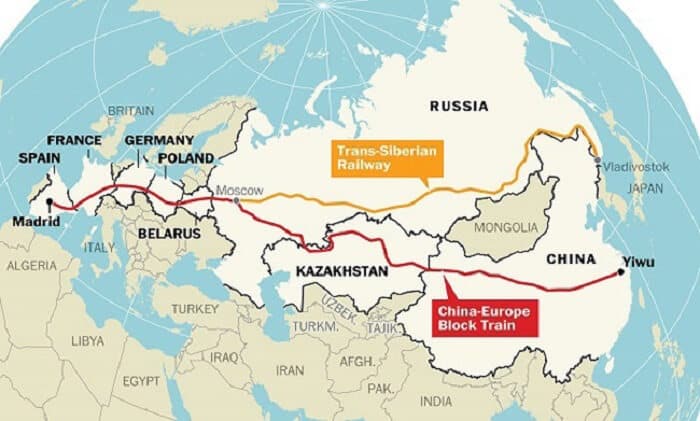 The geological location of Poland has made it the heart of Europe for shipping goods. Poland shares borders with Germany, Czechia, Lithuania, Slovakia, and Ukraine. The geolocation of Poland has made itself a significant transit land for many transportation networks that connect Europe and Asia.
Both the countries are connected by air, train, and sea.
So, while shipping from China to Poland, you got three options:
Air Freight
Sea Freight
Train Freight.
Air Freight
Air shipping from China to Poland is a relatively new phenomenon. It is one of the most popular ways to ship products from China to Europe.
The advantages of air shipping are that it is fast and reliable. You can receive your goods in 7-10 days. If you ask for a disadvantage, there is only one – the price. Air freight is expensive. But not so expensive if you are shipping less amount of goods. On the other hand, if you are importing more than 500 Kg, we will suggest you avoid air freight as it can be expensive.
If you choose air freight, then we have another suggestion (especially if you are new in this business), and that is the chargeable weight.
Air carrier companies use a formula which is 1:167. Let's clear this for you. They multiply the volume of your package (in Cubic meters) by 167. And they call it volumetric weight. And then they charge you for the greater number.
If the gross weight (which is the conventional weight) is higher, they will charge you for that, and if the dimensional weight is higher, they will charge you for that. So, if you are a newcomer in this industry, beware of this charging system, or you can find your budget is not fitting with your calculation.
NOTE: For Express shipping, the chargeable weight ratio is 1:2.
Sea Freight
Sea freight, also known as ocean freight, is freight transported by sea. Sea freight is a major mode of transport for many goods, especially those that are perishable or bulky such as raw materials and manufactured goods.
Sea freight is often the preferred mode of transport for large-scale international trade. Today, sea freight is the primary mode of transportation for many countries, including China and Poland, two of the largest importers and exporters of goods in the world.
Sea freight is the least expensive shipping method, but it is the slowest and most efficient freight shipping method. The main advantage of sea freight is that it is cheaper than air freight, train freight, and of course, express shipping.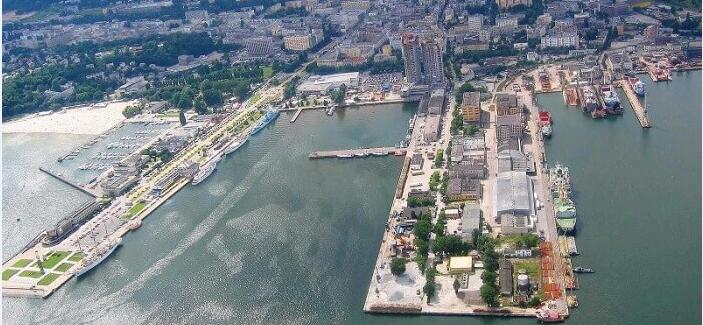 LCL is a great way of shipping goods from China at the lowest cost. Most individual importers and small to medium businesses prefer this method. Here you will pay for the space your goods will occupy in the container.
With LCL shipping, you can maintain your supply chain smoothly without paying much.
Train Freight
All Polish importers are lucky because very few countries have rail shipping communication with China. Rail shipping is a balancing point between sea and air freight. It is not as slow as ocean shipping and not as fast as air shipping. Again, rail shipping is not as fast as air shipping, but it will not take as long a time as sea shipping.
Moreover, rail shipping makes inland transportation easier. It is easier to move packages from a rail station than an airport or seaport.
The Chengdu-ód railway line was inaugurated in December 2012. Since then the city became a crucial linking point between various countries in Europe and the capital of China. In 2018, the route accounted for over a quarter of all freight transported between European Countries and China.
The next China – Poland rail shipping infrastructure was built in 2013, which was named SU-MENG-EU. It took 14 days for the first train to travel from China to Warsaw.
In 2019 another service was introduced, which covered almost Nine and a half thousand kilometers.
2. What is the shipping cost from China to Poland?
This is most probably the hardest question to answer while shipping from China to Poland because the shipping cost depends on a number of factors.
The first deciding factor is the shipping method. Air costs the highest, and ocean costs the lowest.
Rail freight stays in between them. It costs higher than the ocean shipping but quite less than the air shipping.
Bear in mind, the type of goods, incoterms, also affect the shipping costs from China to Poland. For example, if you have specific types of batteries from China, there are certain rules you have to follow and it will increase the shipping costs. Likewise, other dangerous goods will need additional charges.
Not only dangerous goods need additional shipping costs. If your goods need special treatment while shipping, the shipping cost will increase. Therefore, it is always better to ask for a quotation from a freight forwarder before calculating the shipping costs from China to Poland.
3. How many days does it take for shipping from China to Poland?
International shipping is a very complicated process. Several factors are involved here. So, it is never possible to tell the exact time of shipping from China to Poland. Numerous factors will decide the required time frame. Here are the key factors:
Shipping mode
First deciding factor is the shipping mode. You can use several methods to ship from China to Poland. You can use air freight, ocean route, train or express shipping method. Every shipping method has its own rules and timeframe to deliver your goods. Express shipping is the fastest. Then comes air freight, rail freight, ocean freight sequentially.
Shipping time
The second deciding factor is when you are making the shipment. There are some times which we call shipping season. Shipping season typically starts from October and finishes in December. This is the Christmas season and most companies give special offers. And as it is occasion time, people make more purchases. So, if you choose this time, both the time and shipping costs will increase.
Off days
There are some days off in China when the entire China indulges in occasions and stays away from work. For example, the new year time. Chinese people celebrate the new year for quite a long time and you won't find many working people at this time. So, before planning your shipment look at the calendar and beware of the Chinese off days.
Product Type
If you are shipping dangerous goods from China to Poland, you will need special permissions. The Chinese government is strict on these goods. They will cross check the documents and that can take several days. So, if you are shipping restricted items add some days to your desired shipping time.
We have created a table for regular shipping time. You can get an overall idea from the table below:
|  Shipping Method |  Required Time |
| --- | --- |
|  Express Shipping |  2-5 days |
|  Air shipping |  7-11 days |
|  Train shipping |  15-30 days |
|  Sea Shipping |  25-45 days |
*** Sea shipping time largely depends on the distance between two ports. So, choose the closest possible ports if you are shipping via ocean.
Pro Tips : Nobody can guarantee the specific delivery time in international shipping as there are hundreds of factors involved. So, always add an extra one or two week to your expected scheduled time. This will help you to maintain your supply chain and you won't be upset for delay
4. What are the benefits of shipping by air cargo for China to Poland?
While you are shipping from China to Poland by air cargo, you will get various benefits. When delivering air freight, the most significant benefit is speed.
This form of transport provides the quickest shipment times as well as the most consistent arrival and departure schedules. Cargo reception zones and air terminals are closely monitored and secured, reducing the possibility of theft or damage.
Airlines with a vast operational footprint can deliver air freight to almost any destination on the earth.
Another important benefit is tracking. Almost every air cargo operator has an online tracking system. So, you can track the status of your shipment and stay calm about the arrival of the shipment.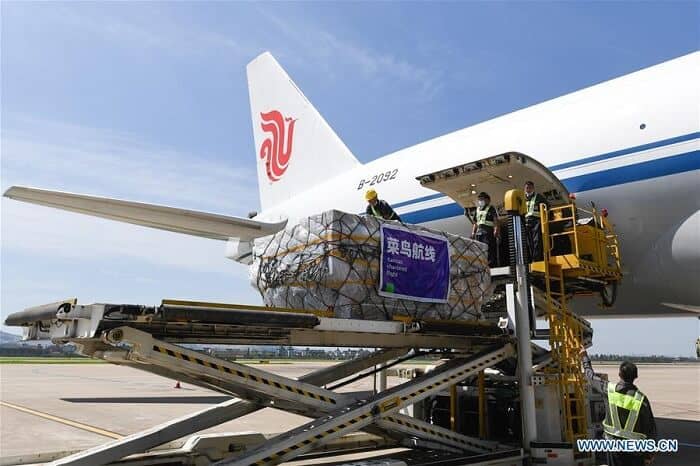 There is one more significant advantage of air freight from China to Poland that many importers don't know or overlook. Air freight uses light packaging. Therefore, you can reduce your packaging cost significantly while using air freight. But if you use ocean freight the packaging costs get higher.
Last but not least, if you use air freight, the chance of using a warehouse is minimal. But in case of ocean shipping, most cases, you need to use a warehouse which adds additional shipping costs.
But remember, all the mentioned benefits are applicable only when you are shipping less amount of goods. If you are shipping a huge amount then these advantages can become a source of additional costing.
5. What is the import process from China to Poland?
Importing from China is a profitable business in Poland. But you have to know what you are importing, the importation process, customs regulations and some other important factors. If you dive into the business without knowing all these your dream of earning can become a disaster of losing money. Here are the steps you should follow: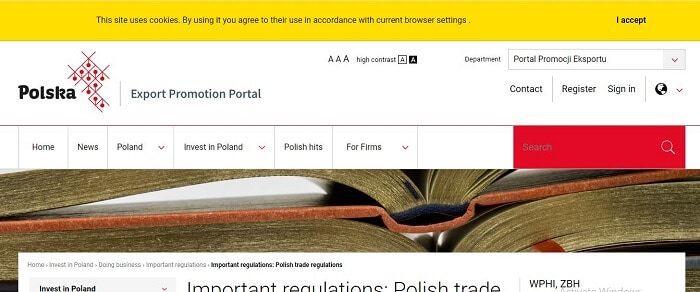 1. First get the import license from the Polish Government. Consulting an advocate would be a good idea to avoid any legal issues in the future.
2. Choose the product you want to import. Knowing about the product is mandatory. So, don't just import products that have greater revenue margin. You need to know what you are selling.
3. Find a seller in China. You can purchase goods from the manufacturer or you can use a third party seller. Both have their pros and cons. If you are just beginning and don't have enough budget, Alibaba or AliExpress can be a good starting place for you.
4. Make sure the product you are importing from China to Poland is permitted to import in Poland. Every country has a list of restricted and prohibited items. You can also ask a freight forwarder. They can assist you with this.
5. Make sure you have all the documents ready. If you miss one single document, the Polish customs won't give you your goods. Your freight forwarder will assist you with the documents.
6. Find a good freight forwarder. It is mandatory to know how to find a good freight forwarder. A freight forwarder plays the most vital role on your shipping costs from China to Poland. So, a bad choice here can bring financial damage to your business and in the worst case, ruin your brand image.
Hire a customs broker in Poland to get your shipment from the customs department fast. If you use our DDP shipping service, we will do that for you and you will receive your goods sitting at your home.
Arrange inland transport shipping from the port. You can take the help of your freight forwarder also. Large freight forwarders have channels to help their customers. At Winsky we have a large network and can arrange the inland shipping for you.
6. What are necessary documents needed while shipping from China to Poland?
It might be difficult to remember every piece of paperwork you need, whether you're new to exporting your merchandise overseas or not. And you may have already discovered the hard way that missing just one document can create huge delays – and perhaps prohibit you from leaving the port of origin altogether.
At Winsky Freight, we've spent more than a decade assisting customers with international cargo shipping and are familiar with the issues that come with it.
We've put together a list of 10 international shipping paperwork you might need to make sure you're ready.while shipping from China to Poland.
You'll need the following paperwork for international shipping to guarantee that your shipments leave on time:
Commercial and Proforma Invoices
Bills of Lading/Airway Bill/Train Bill
Shipper's Letter of Instructions (SLI)
Operational Instructions
Packing List
Certificate of Origin (CO)
Shipping Under a Letter of Credit
Automated Export System (AES) Filing
Safety Data Sheet (SDS)
Incoterms
Documents are the MOST IMPORTANT part of international shipping. You don't afford to miss one document. So, make sure you have all the documents before you are shipping from China to Poland.
7. Is there any rail freight from China to Poland?
Yes, China and Poland have had rail freight shipping facilities since 2013. There are several rail routes available between these two countries. In fact, Poland plays a vital role in rail shipping communication between China and Europe for its geological position.
8. Door to Door shipping from China to Poland.
Shipping from China to Poland can be a little tricky. On the one hand, you have a time difference, which means that working hours are often limited. On the other hand, you have the distance, which means that you will have to find the most cost-efficient shipping option.
However, door to door freight shipping can help you avoid unnecessary delays and find the most cost-efficient shipping option.
You can use the air, train or sea route for your door to door shipping from China to Poland.
Door to door sea freight is a service that can be used to ship large consignments of items, often over long distances and on a schedule. Shipping by sea freight is often the most economical option, especially when sending large quantities of items over long distances, such as from China to Poland.
Shipping by sea freight can be a complex operation, especially when it comes to arranging the pickup and delivery of the items at either end. This can be a time-consuming process, especially if it involves visiting a variety of different locations. Door to door can save you from those hassles.
Winsky freight is famous for its premium quality door to door shipping from China to Poland.
9. Express shipping from China to Poland.
Express shipping is not conventional freight forwarding service. It is a door to door service but only operated by air route. In addition, Special express shipping companies operate this shipping mode.
Express shipping is a great shipping method for small packages, like less than 100 Kg.
To name some of the best in the world DHL, FedEx, TNT, UPS. You can use any express shipping to ship from China to Poland. These companies guarantee you will get your items in 2-5 working days.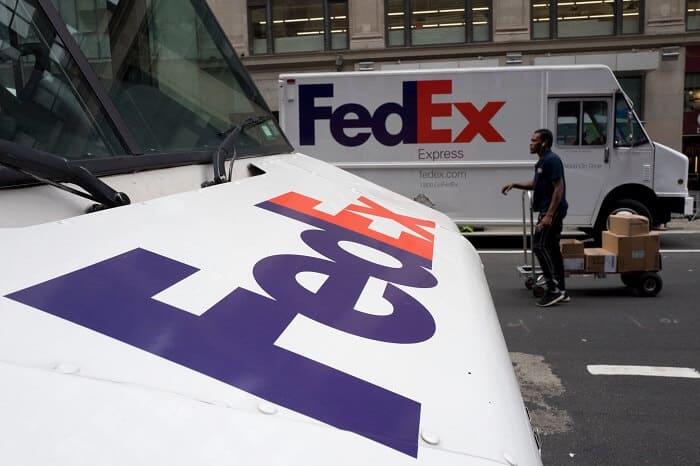 Winsky freight has special contracts with all the top express shipping companies and you can contact us to get a cheap rate and the best suggestion of which one will be the best for your location.
10. What is the cheapest shipping from China to Poland?
Like any other country, ocean shipping costs the least from China to Poland. More than 90% shipment happens using this shipping method. If you are not a business magnet and bringing a huge amount of LCL ocean shipping is the best method. Winsky freight provides the most competitive rate for LCL shipping from China to Poland.
11. What is customs duty in Poland?
Like any other country in the world, Poland has its own customs department. The Customs department is the gateway of importing goods to Poland. They check the documents of the goods and collect customs duties, VAT, and TAXes assigned by the Polish Government.
12. How much are the customs duties, VAT, and Taxes in Poland?
Polish Customs apply three separate rules for the incoming imports from various countries. They are:
Members of the World Trading Organization
Imports from developing countries
Countries that have special trade contracts with Poland.
Customs tariff in Poland ranges from 0% to over 400 percent.
All products are subject to a 5% import tax. In addition, a luxury excise tax and a value-added tax of 22%, 7%, 3%, and even 0% are applied based on the commodity. You can visit the official website of the Polish customs department for more detailed information.
13. What can I do if Polish customs confiscate my products?
It is a very rare case. It can happen if you import restricted items without permission from the relevant authority or import prohibited items. They also can confiscate your product if you fail to show the required documents or pay all the bills.
But it doesn't matter what the reason is. If the Polish customs department confiscates your goods, you have nothing to do. They will contact you and tell you the reason for confiscating your goods. If you can solve the issue, you will get your consignment.
14. How to track my shipment while shipping from China to Poland?
Tracking your shipment while shipping from China to Poland is very easy. If you are using express shipping, you can track from their website using the unique ID they provided you. Some freight forwarders also offer this process.
But if you are using a freight forwarder for shipping from China to Poland, we will suggest you contact their customer service. Therefore, choose a freight forwarder who has 24/7 customer care.
15. Why is Winsky the Best freight forwarder for China to Poland Shipping?
Winsky has been in the shipping industry for more than 12 years. Our team is designed specifically for the Polish market. A specialized staff looks after our Polish clients. As a result, we can provide a seamless and secure shipping experience.
Another consideration is the shipping costs. All major express companies, airlines, and ocean carriers have relationships with us. As a result, we can offer our Polish clients a lower rate than many other Chinese freight forwarders.
We also have a separate customs department for our DDP clients in Poland. Our customs department stays updated with Polish customs rules at all times.
Conclusion
It isn't easy to ship goods from China to Poland. However, if you have all the insights, you can accomplish them quickly. We hope you found this 'China to Poland shipping guide' useful. However, if you don't find a solution to your issue or have a project in mind, please contact us or ask for a quotation, one of our Polish shipping specialists will reply you soon.