BEST SHIPPING COMPANY FROM CHINA TO USA
EXPRESS, AIR & SEA FREIGHT
DDU/DDP DOOR TO DOOR DELIVERY

Shipping from China to USA
Winsky Freight has specialized in shipping from China to the USA for over 10 years. We can assist you in shipping products from any part of China to the USA. As one of the top freight forwarders, we are well-versed in local customs clearance, tax laws, and regulations. By integrating resources from air and sea shipping carriers and destination agents, we can efficiently, stably, safely, and economically deliver your cargo to your preferred destination in the USA.
At Winsky Freight, we have extensive experience shipping goods from China to US Amazon warehouses and private company addresses. You need not worry about paperwork and customs procedures; we will handle everything on your behalf. We understand all the logistics involved in shipping different goods from China to the US.
Winsky Freight offers multiple shipping options to meet all your demands, including fast DDP sea and air freight. Additionally, we provide express air freight services through FedEx, DHL, UPS, and TNT. Our door-to-door delivery service from China to the USA can take 1-5 working days for air freight and 5-10 for standard air freight. You can expect to receive your goods within 30 days for sea freight.
Contact us now for the best freight quote for your future order from China to the USA.
Your Best Freight Forwarder From China to USA
"I just received my first batch of watch strap materials from China to the USA. All the materials arrived in pristine condition. I appreciate the prompt delivery and constant updates from your team. I will get in touch for the next batches, thanks."
"Hi, thanks for keeping to the delivery time as promised. The accessories shipment from China arrived in the USA seamlessly and in great condition. I am very happy with the service provided. Thanks again!"
"The sea shipment from China to California was the fastest and on-time delivery I have experienced yet. And all our construction machinery arrived safely too. Thanks for the reliable service. More work to come in the future"
"The DHL shipping from China to my US address was incredibly fast. Within 3 days, the scanners we need urgently arrived ahead of schedule. Top-notch service and we were kept informed throughout the process. Highly recommend it to anyone"
"This was my first big shipment from China to the USA. I had several packages to pick up in China from my suppliers. Winsky made the whole experience smooth and even saved us extra cost with the consolidate option. Thank you so much."
FAQ for Shipping from China to USA
What is the fastest shipping from China to the USA?
EmmayipWF
2022-11-05T08:56:01+08:00
The fastest shipping is by Express shipping like UPS, FedEx, and DHL, about 2-5 work days shipping directly from China to your US destination, and you may be required to fulfill the import custom document and pay the duties as Express shipping custom request.
Shipping Procedures from China to the USA:
The Complete Guide 2023 | Ship from China to the USA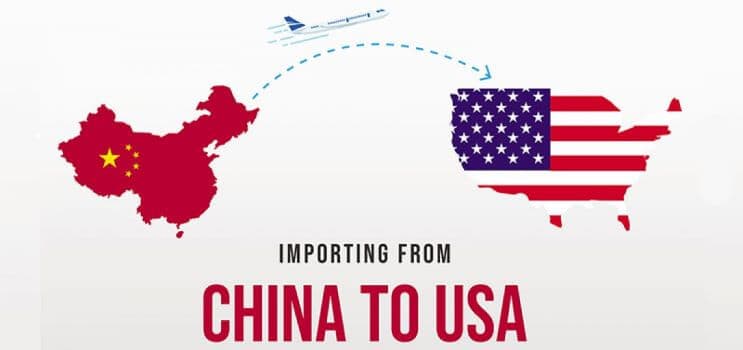 The USA is the world's largest importer, with an annual import value exceeding $2500 billion. China stands as the largest supplier not only to the USA but also to the rest of the world.
You are likely already aware of this, especially if you seek to import goods from China to the USA. However, you might be facing a challenge in understanding the process.
Don't worry; in this article, we will guide you on efficiently shipping from China to the USA, outlining the most cost-effective and swiftest shipping methods, optimal shipping routes, customs documentation, and processes, among other essential details. Keep reading to gain a deeper understanding.
1. What are the shipping options from China to USA?
For the shipping from China to USA, the available shipping options are the sea freight, air freight and Express freight.
1) Sea Freight from China to the USA
Sea freight is the cheapest shipping option for bulk cargo over 2CBM; you can ship from China's main seaport, Shenzhen, Hong Kong, Shanghai, Ningbo, Qingdao, and Tianjin, to major seaports like LOS ANGELES, LONG BEACH, SEATTLE, OAKLAND, NEW YORK, MIAMI, HOUSTON, etc.
Sea freight may be the slowest, but it has a lot of other benefits over Air & Express Freight, such as;
It is the cheapest
Fewer Restrictions
As long as the size is the same, the weight almost doesn't cost more, so it's best for heavy goods.

➔  LCL Vs. FCL Containers Options
In Sea Freight, you will be asked how you want to load your cargo on the containers;
LCL

, also known as Less than Container Load, is a shipping option in which your Products are loaded with other Products in the same container. This way is cheap when you don't have enough goods to fill a whole container; typically, it is suitable for volumes below 16CBM, so you don't need to pay for the entire container.

 

FCL

, also called Full Container Load, is a separate container set only for your cargo; nothing else is put in it. Typically, it is suitable for volumes above 16CBM. In this method, you pay for the whole container, so ensure you have enough goods to fill it completely.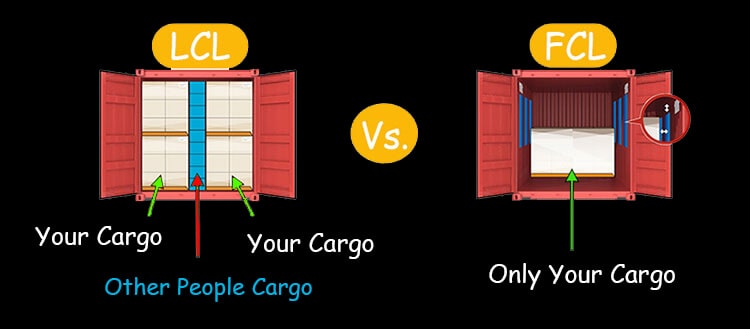 It is important to note that in LCL shipping, your goods are loaded with other people's goods, and the container consolidation and dis-considation takes extra time.
In contrast, the FCL shipping method is more secure & faster because your private container will only open when it reaches your country, and with only your goods in it, there will be fewer chances of inspection ( which, if it happens, can take many days ).
If you are looking for port-to-port or door-to-door sea freight from China to the USA with the fastest delivery, hassle-free custom clearance, and budget-friendly costs, then we, Winsky Freight, are the best option for you.
2) Air Freight from China to the USA
Air freight from China to the USA comes with many advantages, including improved safety, reliability, and time consciousness. You don't have to wait for 4-5 weeks to receive your goods. Also, air freight can be the most convenient method when shipping lightweight products weighing less than 300 kilograms.
It will be better to use air freight if you are shipping fragile, perishable, and precious goods. That's because the risk of damages or losses is low. Most air freight companies will also provide you with a tracking number to help you track your goods' movement. That way, you can predict when your cargo will get delivered.
Unfortunately, shipping by air is an expensive option. You may also incur additional costs and customs fees at the airports. Air freight is costly when shipping heavy cargo. That's because air freight companies charge their rates based on the cargo's volume and weight. Some of the expenses included in air freight charges are fuel surcharges, airport transfer charges, security surcharges, customs brokerage charges, and terminal handling charges.
3) Express shipping from China to USA
Express freight is the fastest shipping options from China to the USA, and more suitable for urgent samples shipping and shipment weight below 200KG. There are 3 famous Express shipping carriers from China to the USA: DHL, FedEx, and UPS.
DHL Shipping from China to the USA
DHL is the fastest Express courier from China to the USA, with a shipping time of about 1-5 days, and DHL's custom clearance ability is better than other express like UPS and FedEx. DHL Express shipping cost is higher than FedEx and UPS, suitable for shipping samples and most urgent goods.
FedEx shipping from China to the USA
FedEx is one of the best Express couriers from China to the USA. Shipping time is about 3-5 work days, and shipping cost is more economical for weights above 21 than DHL Express; you can consult your China freight forwarder, as they have discounted agent prices than shipping directly from the Express carrier.
UPS shipping from China to the USA
It has two different services for UPS from China to the USA, UPS Worldwide Saver, and UPS Worldwide Expedited; for UPS Worldwide Saver, the delivery time is about 3-5 business days, and for 5-7 business UPS Worldwide Expedited, the shipping time and stability of the UPS Worldwide Saver is better than UPS Worldwide Expedited. Still, shipping costs are slightly higher than UPS Saver service; you can consider the shipping according to your unique needs.
4) DDP shipping from China to the USA
If you've ever shipped products from China to the United States, you've probably heard about DDP (Delivered Duty Paid) shipping.
In a DDP shipping agreement, the seller is responsible for covering all the transport costs to the destination port. The supplier assumes all the risks involved.
For DDP shipping from China to the USA, Chinese freight forwarders combine the advantages of air and sea transportation modes and integrate local couriers like UPS and FedEx to complete China-to-USA door-to-door shipping. This model represents an innovative business approach that leverages the speed of air freight and the cost-efficiency of sea shipping to achieve point-to-point and full-process door-to-door delivery.
After customs clearance is completed by the local agent at the destination port, the goods are delivered to the designated Amazon warehouse or USA residential address by UPS, FedEx, or truck.
Sea Freight DDP from China to USA

The total DDP sea freight shipping time takes about 20-25 working days door to door from China to USA.
The mode of the first leg of transportation via sea freight to a US port, followed by last-mile delivery by local UPS or FedEx, leverages the reservation-free feature of UPS and FedEx, along with the cost-effectiveness of sea freight. This allows customers to consider both timeliness and cost-efficiency.
The mode of the first leg of transportation via sea freight to a US port and last-mile delivery by truck is currently the most economical and suitable option for Amazon and 3rd party fulfillment centers.
Air Freight DDP from China to USA

The total DDP air freight shipping time takes about 10 working days door to door from China to USA.
The DDP air freight particular line operates as follows: goods are loaded into the container, after which the China freight forwarder arranges the export customs documents and export clearance.
The goods are then shipped via air freight to a USA airport. Subsequently, the USA destination port agent handles import customs clearance and delivery, encompassing customs declaration and inspection, warehousing and distribution, cargo insurance, document processing, and other one-stop logistics services.
With this mode of initial air transportation + last-mile UPS dispatch, the combination of air transportation and UPS end delivery ensures the safe and prompt delivery of your goods to the warehouse.
2. What is the Best Shipping Way from China to the USA?
When you are dispatching your cargo from China to the USA, you will have to choose one of these 3 shipping methods, such as; 
i) Air Freight
ii) Sea Freight
iii) Express Shipping

Most people think that Sea freight is the most inexpensive, so it's the best, while others think Express Freight is the speediest, so it's better. But that's half wrong. You see, each person's product size, weight, & nature differs.
Moreover, each person lives in a different place, so they order stuff at their nearest delivery port. Some people want urgent delivery while others don't, and above all, every person has a different budget. So, the shipping method differs for everybody.
However, you can see the chart below to get an idea of what kind of shipment method is best for you;
| |  Express Courier |  Air Shipping |  Sea Shipping |
| --- | --- | --- | --- |
|  Delivery | Very Urgent ( within 1 week ) | Urgent but can wait for 1 – 2 weeks | |
|  Best Weight | Small items like Documents, Product Samples | | |
|  Big Size & Small weight Goods |  X | X | ✓ |
|  Very Heavy Goods |  X | X | ✓ |
|  Restrictions | | | |
|  Budget | | | |
If you look at the above chart, you can see that for big & heavy goods, the best shipment method is by sea, it is because;
Weight matters little in ocean ships; 

for example, you can put 25,400 kg in a 20 ft container, costing you less than $0.5/kg. While in Air freight, it will cost you $5/kg. In short, Air freight will cost you 10+ times more than sea freight. 

And the same goes for Big products.

 As airplanes are much smaller than ocean carriers, they take every inch of cargo very seriously, even if it weighs nothing, and they will charge for a higher standard weight according to size instead of actual weight. So, if your goods are big, like a car, crane, etc., always choose sea freight. 
However, if you need your goods quickly and don't mind spending more than the product's actual price, you can also choose Air freight; it's up to you.
3. Shipping from China to USA Amazon FBA
Shipping from China to Amazon FBA in the US is a popular method for transporting goods from China. However, it's a process for which you should contact a reliable China freight forwarder to help transport your goods to an Amazon warehouse in the US, ensuring a convenient and streamlined logistics process.
Winsky Freight offers a professional shipping solution from China to US Amazon FBA, ensuring everything is handled in a timely and cost-effective manner that aligns with your Amazon shipping requests and expectations.
Winsky Freight has a network of agents in the US that facilitates a smooth shipping logistics process on both ends. The available shipping options for China to Amazon FBA in the US include ocean freight door-to-door, air freight door-to-door, and express freight.

What is the Process for Shipping from China to US Amazon FBA?
1) The manufacturer prepares the goods, labels the product, and affixes the FBA barcode, 'Made in China' remark, and warehouse identification number to the outer carton. 
2) The manufacturer or we pick up and deliver the goods to the designated warehouse, following the warehouse order number. 
3) The manufacturer provides a commercial invoice, packing list, declaration elements, and complete customs declaration information.
4) After the goods arrive at our logistics warehouse, we inspect the packages, arrange the export customs declaration, and leave the goods at the place of departure. 
5) Upon arrival at the destination (LAX), our local partner in the USA handles import customs clearance, pays customs duties, and picks up and distributes the goods to the US private destination or Amazon warehouse.
6) If shipped by truck to Amazon, a local agent in the USA will make an appointment with Amazon in advance and deliver the goods to FBA according to the scheduled arrival time. 
7) Amazon successfully signs for delivery, and Amazon sellers can check the details of the goods' storage on the Amazon website.
4. How much is the Shipping Cost from China to USA?
No matter whether you are choosing sea or air freight, there are some factors that will affect shipment costs, such as; 
Goods Type
Overall Size & Weight of Shipment
Shipping Route Distance ( the shorter, the cheaper )
Peak Seasons ( More Orders cause a rise in Shipping prices )
Others like Custom Checkings, delays, natural disasters, etc.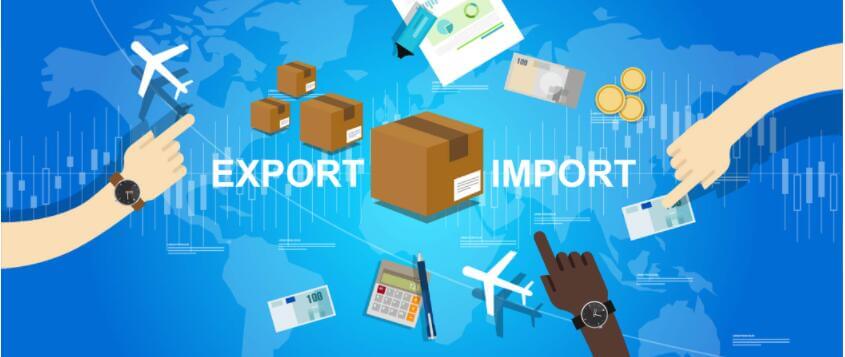 Below, we will discuss how much you will get charged in shipping through various methods, such as; 
a) Sea Freight Cost
b) Air Freight Cost
c) Express Courier Cost
a) Sea Freight Cost
It is important to note that in sea freight, people always ship big goods, so the cost of shipment is usually based on volume or CBM (cubic meter ) value, in the case of LCL.
In the case of FCL, you are not charged based on CBM because you are paying for the full container, and you can use all the space ( CBM ) inside it or leave it empty.
Check below the LCL sea freight dated 10-November-2023 from China to the USA for your information, pls also note that you need to take the documents fee and destination port fees into consideration too.
Sea freight rates from China to USA:
 Port of Origin
 Port of Destination
LCL (USD/CBM)
20'GP O/F(USD)
40'GP O/F(USD)
Transit Time
 Shenzhen/Shanghai/Ningbo
 Long beach
20-48
1400-1550
1700-1850
14-16 Days
 New York
25-55
2250-2400
2700-2850
29-35 Days
Miami
30-45
2350-2450
2800-2950
30-38 Days
Chicago
35-50
2950-3050
3500-3650
20-25 Days
b) Air Freight Cost
In the case of Air freight, the parcels are usually small, in which case, the cost is based on weight ( kg ). However, if your air parcels are light weighted, then volume weight also used as chargeable weight on Air shipping. You can see the chart below dated 10-November-2023 to get an idea about costs;
Air freight from China to USA per KG:
 Port of Origin
 Port of Destination
Weight
Price Range (USD)
Weight
Price (USD)
Weight
Price (USD)
Shenzhen/Guangzhou/Shanghai/
LAX
≥100kgs
6.0-7.0
≥300kgs
 5.80-6.80
 ≥500kgs
5.60-6.60
JFK
≥100kgs
6.50-7.50
≥300kgs
 6.40-7.40
≥500kgs
6.00-7.00
ORO
≥100kgs
6.55-7.52
≥300kgs
 6.45-7.49
≥500kgs
6.05-7.10
DFW
≥100kgs
6.50-7.50
≥300kgs
 6.40-7.40
≥500kgs
6.00-7.00
c) Express Courier Cost
In express shipping, courier companies pick up your parcel from your house, or you have to deliver it to their nearby office, and they will deliver the parcel all the way to the receiver house within 1-week all over the world.
Express couriers have the most expensive service among all kinds of shipment methods, Check below the Express  freight dated 8-April-2023 from China to the USA for your information
Express freight per KG from China to USA Door to Door:
| Carrier | Weight |  Price (USD) | Weight | Price (USD) | Weight | Price (USD) |
| --- | --- | --- | --- | --- | --- | --- |
| FedEx | ≥21kgs | 7.3-8.5 | ≥69kgs | 6.8-7.5 | ≥100kgs | 5.9-7.0 |
| UPS | ≥21kgs | 7.1-8.3 | ≥69kgs | 6.5-7.6 | ≥100kgs | 6.2-7.1 |
| DHL | ≥21kgs | 6.9-7.8 | ≥69kgs | 6.8-7.5 | ≥100kgs | 6.5-7.2 |
5. What is the Cheapest Shipping from China to USA?
It depends if the shipment charge weight is below 100 kg. Typically, the cheapest shipping option is the Express way, with an estimated cost of around US$8/KG door-to-door from China to the USA.
Standard air freight will be the most economical choice for shipment total charge weight between 100-300 KG, costing around US$6 per KG.
The most cost-effective option for total weight and volume above 300 KG and 2 CBM will be sea freight, estimated at around US$50/CBM.
In summary, the most cost-efficient approach is to engage a reliable freight forwarder like Winsky Freight to handle your shipment, as they are well-versed with all the shipping options, regulations, and shipping routes from China to the USA and can secure better shipping discounts.
6. How long is the shipping time for China to USA?
Regarding shipping time from China to the USA, Sea shipments are the slowest, while Express couriers are the fastest. In this part, we will discuss the factors that affect delivery time and how many days it takes for each method of shipment, such as; 
a) Sea Freight Time
b) Air Freight Time
c) Express Courier Time
a) Sea Freight Time
Many elements can affect the sea shipping time from China to USA, like loading, unloading, customs clearance, natural disasters, peak season, etc. Still, the most important is the distance between the origin and destination.
For example, the distance from China to West USA ports is much less than the East USA ports, so it only takes about 14 days to ship to Los Angeles ( West USA ) and 35 days to ship to Miami ( East USA ).
It is best suggested to move your cargo to the west of the USA by ocean ship, and from there, you can hire land vehicles to move cargo to your place in the East because it will save you many dollars and days.
Below is a rough delivery time from different Chinese Seaports to USA seaports;
Origin China
DestinationUSA

FCL

LCL
Ningbo
Miami
New York
Los Angeles
Shanghai
Miami
New York
Los Angeles
Shenzhen
Miami
New York
Los Angeles
b) Air Freight Time
Several factors can significantly affect air freight time from China to the USA, including packing, loading, unloading, customs clearance, shipping carriers, and whether it's a direct or indirect flight.
A direct flight can take as little as one day from a Chinese airport to the destination airport in the USA. However, some individuals opt for indirect flights to reduce costs. In these cases, the airplane may stop at one or more airports in between, adding more days to the overall delivery time.
Port-to-Port

Door-to-Door

Air freight Delivery
c) Express Shipping Time
Express Couriers always use Airplanes, the fastest In-Land vehicles, have dedicated custom agents, their work laborers, and above all, they work overnight, so they have the quickest delivery time no matter where you want to send packages around the world.
However, this quick delivery is not cheap, and they charge 2 – 3 times more than other shipping methods.
| | Door-to-Door |
| --- | --- |
| China to the USA | |
It is important to note that Express Couriers deliver parcels to the doorstep, so the traffic greatly matters because, in crowded cities like New York, it may take an additional day or two for delivery.
7. What is the Fastest shipping from China to USA?
The fastest shipping between China and the USA is by Express Couriers, while Air freight is not far behind and has earned second place. However, Sea freight is the slowest mode of shipping. You can compare them in the charts below;
Express Couriers

Air Freight
Sea Freight

Door-to-Door

Port-to-Port

Cost ( 300 kg Cargo )
8. Are they any delays for the shipment from China to USA?
Many situations might lead to shipping delays, like port congestion, import and export customs exams, and China holidays, so prepare your shipment ahead to avoid the potential delay affecting your business and supply chain.

Chinese Holidays
Most Chinese suppliers and manufacturers close their factories during public holidays such as the Chinese New Year, affecting the supply and delivery of Chinese goods.
Before shipping any product from China, ensure that you are within the correct timeline to avoid congestion at the seaports. Otherwise, you'll have to wait for weeks to get the goods.
Port Congestion
Congestion at the seaport is a common cause of sea freight delays.
When there's congestion at the port, ships can't load or unload goods on time.
That means the ship won't sail on time at the departure seaport and fails to arrive at the destination port on time.
Import Customs Inspections
Although delay cases due to customs inspections are rare, they still happen occasionally.
When sea freight goods go through the Customs and Border Protection (CBP) inspection, the shipment can be delayed for about one to two weeks.
If that happens, you must give the freight forwarder more time to ship the products.
9. How Does Custom Clearance from China to USA Work?
As a new importer, we know that you are afraid of customs because they check tons of paperwork and charge fees. Without a freight forwarder or customs agent, you will likely pay more fees and strand your cargo due to missing paperwork.
You see, you will need the following paperwork in the Origin Country, China;
Commercial Invoice ( from the manufacturer )

Export Declaration Document ( from the Chinese government )

Packing list ( from the seller )

COC certification ( issued by the exporter )

Customs Invoice ( from seller or exporter )

Bill of Lading ( given by the Shipping company )
After getting these Documents, Chinese Customs will inspect the goods, charge fees, and clear them for transport.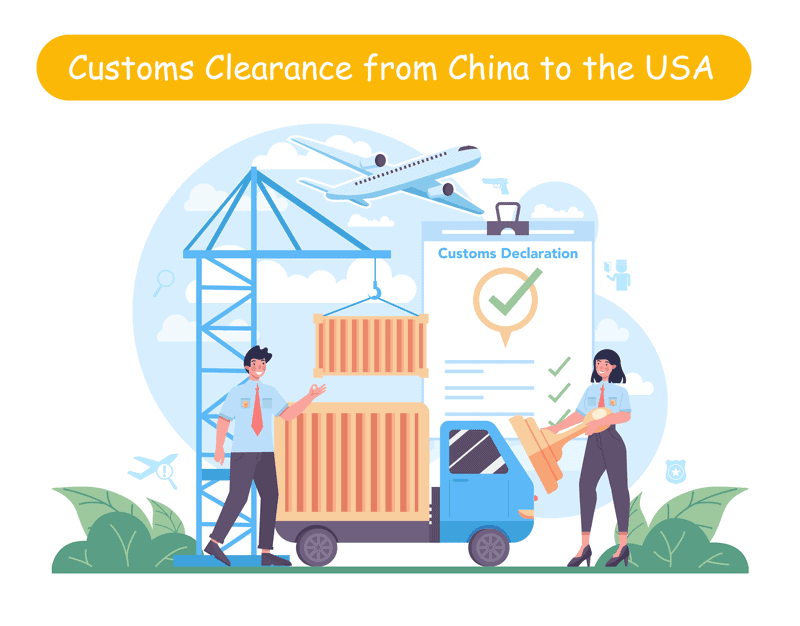 Then, in the USA, it is better to tell the destination port agents about your shipment and fill out the necessary forms. When the shipment arrives, you must submit almost all the above documents, which you get from China to the USA customs.
The USA customs will check the documentation, inspect goods if required, charge USA customs tariffs according to the products' nature, and release them to you.
10. Do I Have to Pay Import Duties for My Cargo from China to USA?
If you ship cargo from China to the USA, you must pay customs taxes unless your goods estimated value is lower than $800.
And for the next $1000, you must pay a 3% flat duty. However, if you move above, then standard duties rates will apply. For more info, click here.
You can check the customs duty before the shipment arrives by giving the customs agent your products' HTS codes or finding the fees on the USA customs website.
11. What are the Shipping Routes from China to USA?
It is important to note that the USA is a vast nation consisting of 2 whole continents. The ports in America are divided into 2-parts:
i) West Ports

ii) East Ports 
USA West ports are closer to China than East ones which adds more days & costs in shipment. The major seaports of the USA are Los Angeles, Long Beach, Seattle, Oakland, New York, Miami, Houston, etc. 
However, as China is an Industrial Hub, it has a lot of Airports and Seaports all over the country. China is only connected to the sea from its East side, so ports are in eastern cities like Shanghai, Shenzhen, Tianjin, Xiamen, Hong Kong, Ningbo, etc.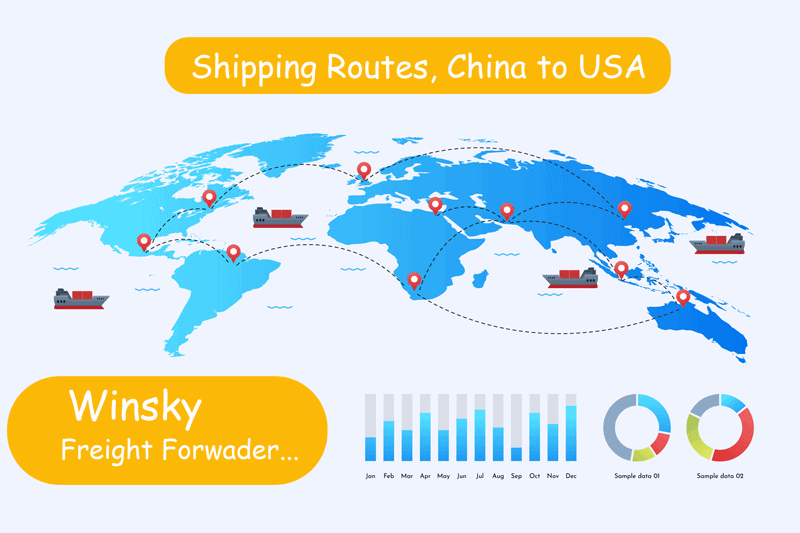 Each shipping corporation has its own sea & air routes between China & USA, and the most famous among them are;
To West USA

To East USA

From China

Maersk Transpacific 7 (TP7)
Maersk TP10 Eastbound
Maersk TP11 Eastbound
CMA CGM Manhattan Bridge
China Shipping AAE2
China Shipping AAE3
MSC America Westbound
MSC Everglades Eastbound
Evergreen/MOL AUE3
CMA CGM Columbus Loop
12. How Can You Ship from China to the USA?
Let's explore how to ship from China to the USA.
Choose Your Shipping Options:

 Decide the shipping method that suits your needs. You can opt for air or sea freight. Air freight is faster but more expensive, while sea freight is slower but more cost-effective. Each shipping option has advantages and considerations, depending on your specific shipping requirements.

Request Quotes from Freight Forwarders:

 Contact several China freight forwarders to request quotes based on your shipment type and desired shipping options. Choose the one that best meets your requirements and satisfaction.

Prepare Necessary Documentation:

 Once you've selected a suitable freight forwarder, instruct your China factory to pack the goods appropriately and prepare the required customs clearance paperwork. This includes a commercial invoice, packing list, and country of origin.

Coordinate with Freight Forwarder:

 Coordinate with the chosen China freight forwarder to arrange the pickup of goods from your China factory and the delivery to your specified destination in the USA.

Schedule Pickup and Delivery:

 Coordinate with the shipping company to schedule a pickup time and organize the delivery to your preferred location in the USA.
In conclusion, the shipping process can be complex without the assistance of a reliable freight forwarder. It's advisable to collaborate with a trusted China shipping agent to assist you with transportation, ensuring your goods arrive safely and on time.
13. Which Incoterms Are Suitable for Shipping Goods from China to USA?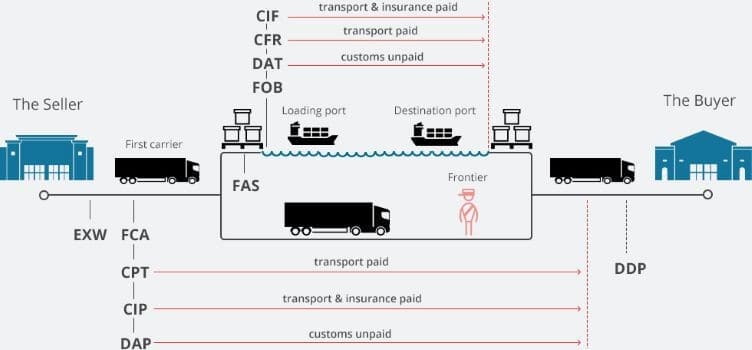 If you've ever shipped items from China to the US, you probably know what incoterms are. Incoterms are formal agreements between the supplier and buyer, specifying who is responsible for loading, shipping, delivery, offloading, and customs clearance.
Here are the most common incoterms you need to know.
Cost Insurance Freight (CIF): 
This trade term gives a seller the responsibility to cover transport to the US. The seller is responsible for the risks involved.
Free on Board (FOB): 
The supplier delivers goods to your preferred port in China; then, you become responsible for anything that happens from there to a US port.
Ex Works (EXW):
When you choose this incoterm, the supplier delivers goods at their factory gate, then you (the buyer) are responsible for shipping to the US.
14. How to Track the Shipment from China to USA?
Monitoring your shipment's movements helps you plan delivery schedules appropriately.
Tracking goods is easier when transporting them via express shipping services, such as DHL and FedEx. You can visit the Express carrier's Offical website and enter the unique tracking number to monitor your shipment's progress.
You can also track your cargo's movement when shipping by sea and standard air freight by visiting the carrier's website and inputting the provided tracking number.
Another option to track the shipment status is using a third-party website like 17track, which supports 1500+ carriers and 120+ airlines worldwide.
If you encounter difficulties tracking the goods, allow your freight forwarder to do it on your behalf.
15. Do I have to Buy Cargo Insurance from China to USA?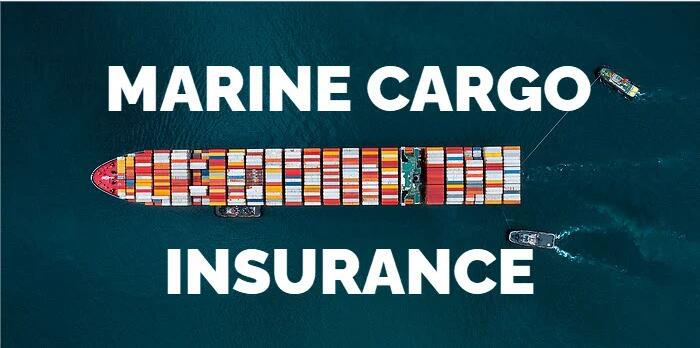 No doubt, shipping cargo from China to the United States involves risks. Accidents can occur due to bad weather, and containers can be lost at sea. For this reason, you must purchase freight insurance to protect your goods against loss or damages that may result in financial losses.
When you buy freight insurance, it's essential to familiarize yourself with the cargo insurance clauses, such as the insurance rate, scope of coverage, and the deductible amount.
The insurance rates depend on the value and nature of the goods you ship from China to the United States. The insurance rate is typically 0.3% of your cargo value, with a minimum cost of US$25 per shipment.
In the event of damage or loss, you must promptly contact the insurance company, especially for damage cases. Take photos the same day you receive the cargo and inform the insurance company.
Prepare the necessary insurance documents, such as the commercial invoice, sales contract, packing list, claim letter, list of losses, accident certificate, and bill of lading.
The insurance company will carefully review all the documents, and the entire process may take up to a month. The insurance company will compensate your bank account if everything is in order.
16. Tips to Find the Best Freight Forwarder
Shipping products from China to the United States involves many logistics, which may take a lot of work for you to handle. So, you'll need help from a reliable freight forwarder.
However, finding the best freight forwarder can be challenging when you don't know what to consider during the search.
Here are the tips to get the best freight forwarding company in China.
1) Freight Forwarder's Capability
Is the freight forwarder capable of handling the shipping procedures?
If the freight forwarder can fulfill all the supply chain requirements, consider it the best company to handle your goods.
The company's size doesn't matter here. Small freight forwarding companies tend to give more attention to their clients.
2) Communication Services
The best freight forwarder has exceptional communication channels.
Since shipping from China to the United States involves complex procedures, effective communication between you and the freight forwarder is essential.
Ensure that the freight forwarder is reachable to address your concerns at any time.
3) Product Knowledge
Consider this factor when shipping products that require special care and handling.
If you are still looking for a freight forwarder specializing in your goods, you can consult your Chinese supplier to help you find one.
4) Shipping Options Available
A good freight forwarding company provides several shipping options to fulfill the needs of every client. The most common shipping methods include air freight and sea freight.
For example, you must confirm whether the freight forwarder offers LCL or FCL shipping if you plan to ship by sea freight.
17. What Are the Advantages of Shipping with Winsky Freight?
Here are the reasons to hire Winsky Freight to process your shipment from China.
1) Established Relationships with Top Shipping Companies
Winsky Freight understands that you need high-quality shipping services, and it all starts with the shipping company handling your goods.
Notably, Winsky Freight has a great relationship with leading carriers worldwide. You can rest assured that your goods will arrive in the US in good shape.
2) Most Competitive Shipping Prices
Every importer's top priority is to save on shipping costs.
If you want to enjoy competitive shipping prices, consider hiring a reputable freight forwarder like Winsky Freight to enjoy better prices.
At Winsky Freight, we offer the best shipping rates for various goods. We provide free quotes with no hidden charges.
3) Multiple Shipping Methods to the US
Whether you plan to ship your goods to the US by air, sea, or express shipping, you can get all the shipping services at Winsky Freight.
We are China's most trusted freight forwarding company, specializing in several shipping methods, including DDP shipping and Amazon FBA shipping to the US.
Conclusion
Shipping goods from China to the US market can be daunting when you need to learn how things work. This guide has enlightened you on the basics, so you don't have to worry.
The most crucial step of shipping from China to the US is contacting a trustworthy freight forwarding company, like Winsky Freight, to take you through the shipping process.