FAST AND CHEAPEST TRANSPORTATION SOLUTION
DDP AIR, SEA & TRAIN FREIGHT
AMAZON FBA SHIPPING FROM CHINA
Shipping to Amazon FBA from China
As one of the premier China FBA freight forwarders, Winsky Freight has specialized in shipping to Amazon FBA from China since 2010. We arrange Amazon goods shipping from China through DDP Air Freight, Sea Freight, and Railway Freight. We can pick up your Amazon shipment from any of your China suppliers and ship directly to the Amazon FBA warehouse.
Winsky Freight has strong connections with top-rated shipping carriers, enabling us to offer you the best shipping costs to the Amazon warehouse. With a reliable import customs clearance team, we ensure that all your shipments to Amazon are handled correctly and in compliance with local customs regulations. We maintain stable shipping space for shipping to Amazon FBA from China, ensuring Amazon receives your goods on time and in good condition.
Contact Winsky Freight today for the best door-to-door shipping from China to Amazon.
Advantages to handle your Amazon Shipping from China
"Our partnership with Winsky has been very satisfactory. Over the last year, all our shipments from China to Various Amazon Fulfillment Centers in the USA have been consistent in delivery time and safety of packages. I see no reason to not continue working with such a reliable freight shipping company."
"I run a yoga & fitness supplies business, and with Winsky's Amazon shipping service the delivery logistics of my business have become super easy. Their reliability is unparalleled. Thank you so much. You should try them out."
"Very efficient freight consolidation and shipment to Amazon Fulfillment Centers. They delivered the frames shipment from multiple suppliers in China without a hitch. It was a real pleasure to work with Winsky. I will definitely use them again."
"As a start-up reseller company, this was my first major shipment from China to Amazon centers. And I didn't know what to expect, really. But the support team guided me through the whole process, and everything went according to plan."
"Winsky's Amazon Fulfilment Center freight option from China gave us great value for our money. And the support team was excellent to deal with. We were carried along all through the shipment process of our jewelry suppliers. We are really happy with your service."
The Amazon FBA Delivery We can do:
Amazon shipping from China to USA

Amazon shipping from China to Canada

Amazon shipping from China to UK

Amazon shipping from China to Australia

Amazon shipping from China to France

Amazon shipping from China to Spain

Amazon shipping from China to Italy

Amazon shipping from China to Germany

Amazon shipping from China to Singapore

Amazon shipping from China to UAE
Shipping notice from China Vendor to  Amazon warehouse
Many importers ship products directly from the factory in China to an Amazon FBA warehouse. Amazon then takes charge of the storage and distribution of these products. Amazon operates in adherence to strict regulations. As a seller, it is imperative to comply with their rules. Here is what you need to know about shipping to an Amazon FBA center:
Amazon's cargo labeling policies must label the cargo.

The shipment must be palletized to facilitate quick unloading upon arrival. Each side of the pallet must be marked.

The load shall be forwarded to the Amazon address according to DAP or DDP terms.
Please note that Amazon does not handle any shipping or customs clearance procedures. It is solely your responsibility as a seller to manage them.
FAQ for Shipping to Amazon from China
How to ship to Amazon from China?
EmmayipWF
2023-04-19T08:38:47+08:00
You can ship directly from China factory to Amazon FBA, but it is costly and difficult to follow up shipping status, so it is better to ship from the China freight forwarder, ask China factory to paste the label of product SKU and carton FBA label in advance, then China freight forwarder will prepare the import and export custom clearance documents, goods shipped out by your confirmed shipping methods, local truck company or courier will deliver the goods to correct Amazon FBA warehouse after import custom cleared.
Shipping from China to Amazon Warehouse Procedures:
Shipping to FBA Amazon from China | Your Complete Guide 2023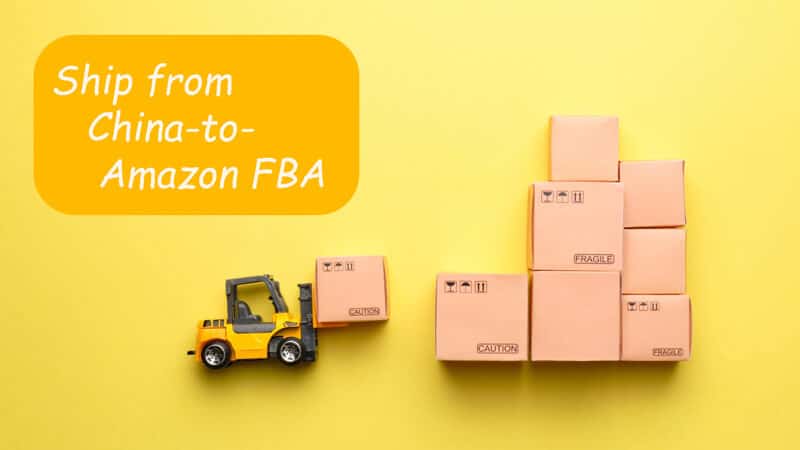 You've come to the right place if you're an online seller or a business looking to expand your reach on the Amazon FBA platform.
This comprehensive guide will break the entire procedure into easy-to-understand steps, providing essential tips and insights to ensure smooth and successful shipping to Amazon from China. So, let's dive in.
1. How Does Amazon FBA Works?
First of all, the seller lists their Products on Amazon FBA > then Amazon generates shipping labels with specific address > the seller ships its products directly from China or from his local shop to Amazon's given address > Amazon stores products & cares for them > when someone orders them, Amazon workers pack and ship the products > after payment, Amazon cut its share and send rest of the money to the seller's account.
2. How to Ship in 10 Easy Steps from China to Amazon FBA?
Shipping directly from China to Amazon FBA warehouses is a straightforward process; all you need to do is buy products from a Chinese manufacturer and then follow the below steps;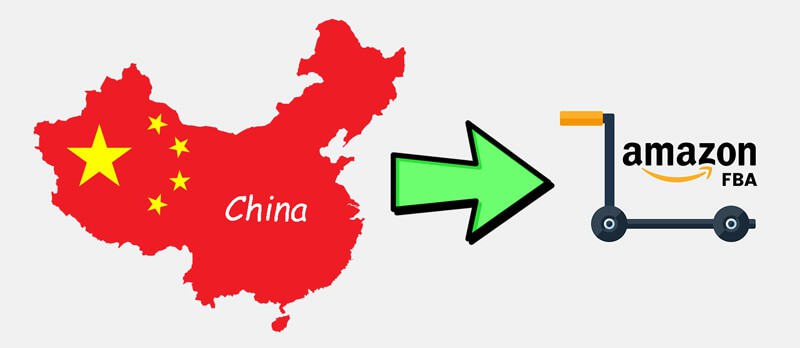 Step 1) Prepare Your Products for Shipping: Ensure your products comply with Amazon's FBA requirements. This includes labeling, packaging, and ensuring the products are not restricted or prohibited for FBA.
Step 2) Look for a reputable freight forwarder or shipping agent in China with experience shipping to Amazon's FBA. They will assist you with the logistics and documentation process.
Step 3) Obtain Your Shipping Labels and Packaging Requirements: Log in to your Amazon Seller Central account > create a new shipping plan > list all your future products under the FBA category > Amazon will generate the necessary shipping labels and provide packaging guidelines based on your products.
Step 4) Choose a Shipping Method: Select the shipping method ( sea, air, road, train, express ) that best suits your needs and budget.
Step 5) Product Pickup and Delivery to the Port/Airport: Coordinate with your freight forwarder to have your products picked up from your supplier's location in China and delivered to the departure port or airport.
Step 6) Import and Export Customs Clearance Your freight forwarder will handle customs clearance procedures in China, ensuring that your products meet all export requirements.
Step 7) Monitor Shipment Progress: Keep track of your shipment's progress and status to ensure everything runs smoothly. Your freight forwarder should provide you with updates regularly.
Step 8) Destination Customs Clearance and Delivery: Your shipment will go through customs clearance procedures once it arrives at the destination country. However, it should be noted that it's a complex process with tons of paperwork, connections, and hundreds of dollars of fees. So, it's best to let your freight forwarder handle it to avoid unnecessary delays or costs because they have connections and a deep understanding of customs clearance laws.
Step 9) Delivery to Amazon Fulfillment Center: Your products must be delivered directly to the designated Amazon FBA fulfillment center after customs clearance. Ensure you have the correct shipping labels and follow Amazon's guidelines for delivery.
Step 10) Inventory Receiving and Storage: Amazon will receive and store your products in their warehouse. You can monitor inventory levels through your Seller Central account.
3. How can I import from Chinese Alibaba to Amazon FBA centers?
Yes, shipping directly from Alibaba manufacturers in China to Amazon FBA centers is possible. When you ship directly from Alibaba to Amazon FBA, your supplier or China freight forwarder will ship your products to Amazon's fulfillment warehouses. Amazon will handle everything else, including receiving, storing, packing, and shipping your products to customers.
How to do it?
Step 1) Find a supplier on Alibaba: Go through all products on Alibaba, get quotes from different sellers, check their history with recent clients, and ask them to send real videos of their facility; all this inquiry is necessary if you want the best quality products.
Step 2) Negotiate terms: Determine the supplier's pricing, quantity, and quality. You can also ask Alibaba sellers to handle the shipment, but as sellers, they only care about their product sales & nothing else; plus, they have huge profit margins. So, hiring a third-party freight forwarder who will give you the lowest quotes to run their business is best. Plus, Freight forwarders are masters in shipment worldwide while manufacturers aren't.
Step 3) Create a shipment plan: Log in to your Amazon Seller Central account and create a new shipment plan. Provide all the relevant information about the shipment, including the number of units, box content details, and shipping carrier information.
Step 4) Prepare the shipment: Coordinate with the supplier to label your products correctly according to Amazon's FBA requirements. This includes using Amazon-specific barcodes (FNSKU) and preparing the shipping labels.
Step 5) Choose shipment method: You have many options for shipping – air freight, sea freight, train freight, etc. You can select one according to your funding and delivery time.
Step 6) Track the shipment: Stay in communication with your supplier and monitor its progress to ensure it arrives at Amazon's designated fulfillment center on time.
Step 7) Amazon handles fulfillment: Once your products arrive at the Amazon FBA warehouse, Amazon takes care of storage, packing, shipping, and customer service.
4. What Shipping Methods are available for Shipping to Amazon from China?
As long as Amazon delivers the products to its warehouse, it doesn't care how you have them. When shipping from China, you can choose from a lot of shipping methods, such as;
i) Sea Freight: Sea freight shipping is ideal for transporting heavy and bulky cargo weighing above 150 kg. It's also suitable for cargo with one cubic meter and above volume.
Sea freight tends to be slower than both air freight and express shipping. As a result, your goods can take around 4-7 weeks to reach the preferred Amazon warehouse.
According to your shipping volume, LCL (less than container load) and FCL (full container load) are the sea freight options from China to the Amazon warehouse.
ii) Air Freight: Air freight shipping is faster than sea freight and is ideal for transporting less than 200 kilograms (approximately 440 pounds) and measuring less than two cubic meters.
You can contact a reliable freight forwarder to arrange for air freight so you can enjoy faster shipping and lower shipping costs due to high-volume rates.
iii) Express Shipping: Companies like DHL, UPS, FedEx, and others offer express shipping services for fast and reliable delivery. This method is ideal for small and urgent shipments weighing below 100 kg but is more expensive per unit than other methods.
iv) Train Freight: If you ship the goods to European Amazon, you can also send your products via train freight. It is faster than sea freight; delivery takes around one month, door to door, but the cost is about 20% higher than sea freight.
5. How long does it Take for shipment from China to Amazon FBA centers?
On average, it takes 2-7 weeks for products to reach Amazon's US warehouses from China and then 14 days for inspection and approval. However, if you opt for expedited shipping, Amazon will prioritize the inspection process, and your products could be available for sale within 7-10 days after delivery.
As you can see, you can't control the Amazon inspection time, but you can control the shipping time. But the faster the delivery, the more costly the service will be, and your profit will get lower. So, the quickest delivery is not always the best, and if you have time, start with a slow shipment method.
The shipment time of the famous method from China to Amazon FBA is given below;
| | Port-to-Port | Door-to-Door | Amazon Inspection | Total |
| --- | --- | --- | --- | --- |
|  Ocean Freight | | | | |
|  Train Freight | | | | |
|  Air Freight | | | | |
|  Express Delivery | — | | | |
Choosing the shipping method that best suits your needs and timeline is essential. Always stay in close communication with your supplier and Amazon to ensure a smooth and timely delivery of your products to the FBA warehouses.
6. How much does the shipment cost from China to Amazon FBA?
The shipment cost from China to Amazon FBA varies on several aspects, such as the weight & dimension of your products, the shipping method you choose, the destination country, and the location of Amazon's warehouses. So, it's impossible to give one value. However, we will provide you with the estimated costs of each shipment;
a) Express Freight Cost
"Express Couriers are the fastest but costliest in delivery."
The approximate shipping cost is around $6 to $15 per kilogram, so it is only ideal when your cargo weight is less than 100 kg and you need super fast delivery. Some courier companies may use dimensional weight calculations, which can be more expensive for large, lightweight products.
b) Air Freight
"Air Freight is the 2nd fastest and costliest shipping service after express delivery."
Air freight takes about double the amount of time compared to express couriers, costing about $8 ~ $12 per kg. Air Freight is suggested for up to 300 kg, and only in emergencies because you may add double the money to your product cost if you choose it.
c) Train Freight Cost
"Train Freight is 40% faster than ocean freight and 20% cost higher than ocean freight." 
Train Freight is the ideal balanced choice between delivery time and cost. For example, it takes about 18 ~ 21 days for parcel delivery, costing about $1.5 ~ $2.5 per kg ( FCL ), eight times less than express couriers. However, train freight service is only available through Europe and the UK, such as;
Yiwu, China > Kazakhstan > Russia > Belarus > Poland > Germany > Belgium > France > London, UK.
So, if you ship goods to Europe, Amazon, railway freight is the best option for you.
d) Ocean Freight
"Ocean freight is the number 1 cheapest shipping option for all businesses worldwide." 
As you know, DHL, like express couriers, charges about $10 per kg, while, in ocean freight, the max cost is $0.5 per kg, which is 20 times less. So, choosing sea freight can lower product costs multiple times and significantly increase profits.
However, the only demerit of sea freight is that it takes almost 1 ~ 2 months for delivery, which is a lot. Fortunately, you can always plan ahead of sale season and ship the products at least three months earlier for on-time delivery.
7. How to Pack Goods from China for FBA Shipping?
When packing goods for fulfillment by Amazon, you must do that per Amazon's packaging standards. As a result, this will protect the products from damage during transportation.
There are two types of packaging: Product packaging and outer box packaging. These two packaging options have different requirements, as mentioned below.
Product Packaging Requirements
When packaging fragile items, use a polybag or bubble wrap to prevent damage.
Here are the other requirements to note during packaging for Amazon FBA.
Add suffocation warning labels to polybags with openings of five inches and above

Secure the barcodes on the polybag or packaging box, ensuring they are readable

Ensure that the polybag's thickness is not less than 1.5 millimeters

Confirm if the barcodes or FNSKUs correspond to a packaged product's variations
Outer Packaging Requirments
After packing a product with bubble wrap or polybag, you might need to put it inside a master carton (outer packaging) to add protection.
For outer box packaging, here are some of the requirements to meet.
Attach a unique and readable to each carton

Each carton's weight must not exceed 50 pounds

Use six-sided cartons with intact flaps to add protection

The maximum dimension of each side of a standard-sized carton is 25 inches
Packaging Materials for Different Products
You can use different packaging materials when packaging individual products, depending on the product's nature.
Here are the packing materials for different kinds of products for Amazon FBA.
Glass and fragile Materials – Bubble wrap or box

Liquids in plastic bottles – Transparent bag

Apparel, fabric, plush, and textile – Transparent bag

Toys and baby products – Transparent bag

Pellets, powders, and granular materials – Transparent bag

Sharp and pointed objects – Bubble wrap and box

Jewelry, flash drives, and key chains – Transparent bag
8. How to Label Your Chinese Cargo for Amazon FBA?
You will need the following Labelling information and need to add it on cartons before shipment; 
Use 30-Up Labels to ensure consistency and efficiency.
Paste the label on a smooth portion of the packaging.
Avoid placing labels on box openings, curves, or corners.
Only place labels in locations that are easy to see and scan.
Ensure the label is scannable without opening or disturbing the package.
The size of the label's font varies from 10 to 24 points depending on the width of the bag.
Refer to the guidelines for specific font size requirements for each bag size.
Expiration dates should be labeled in the format MM-DD-YYYY.
If the month's day is unavailable, it can be skipped.
Expiration dates must be visible, using font size 36 or larger, on both the master carton and individual components.
For packages weighing more than 50 lbs, affix a "Team Lift" label on all sides of the box.
If the package weighs more than 100 lbs, use a "Mech Lift" label alongside each surface on the top of the box.
9. What Documents Are Essential for China to Amazon FBA Shipping?
Since shipping from China to Amazon FBA involves a lot of paperwork, it's essential to know all the documents required for fulfillment by Amazon.
Here are some documents needed for shipping from China to Amazon FBA.
Bill of Lading: 

This document acts as proof of contract between the supplier and buyer, outlining a cargo's journey from China to the destination warehouse. A carrier must send a bill of lading to the good's receiver to claim it at the destination.

Telex Release:

 This email is sent to the destination port to allow a carrier to release your goods without presenting the original bill of lading. Therefore, it eliminates the need for an original bill of lading.

Packing List:

 Outlines the list of things shipped to Amazon, including the number of cartons under shipment. The packing list must also highlight the cartons' weight and dimensions. In addition, its content needs to match those of a commercial invoice.

Commercial Invoice:

 Gets issued by the supplier to declare the number of goods supplied to the buyer and is needed for customs clearance. The document contains the cargo's country of origin and importer's and supplier's names and addresses.
10. Is Quality Inspection Necessary for Amazon FBA Products?

The straightforward is "Yes." A quality inspection ensures that you deliver high-quality products to consumers.
Besides, Amazon encourages its sellers to do a quality inspection to protect the buyers from purchasing low-quality goods and eliminate the risk of account closure.
Now that you understand the benefit of quality inspection, you need to arrange it with your supplier before shipping. As a result, it ensures that you fulfill Amazon's quality standards.
11. Some Tips & Tricks for Shipping products to Amazon from Chinese manufacturers?
Here are the general tips for shipping to Amazon FBA from China.
+  Choose a Reliable Freight Forwarder: They will help you find the lowest-cost delivery option and help you with all the paperwork and customs clearance headaches. So, they will save you money and days of hard work. 
+  Master Amazon's requirements: Familiarize yourself with Amazon's FBA guidelines to ensure your products meet all the necessary criteria. 
+  Optimize packaging: Use sturdy and protective packaging to prevent damage during transit and storage at Amazon's warehouse. However, it would help if you remember that courier services also charge for packing weight and size. So, try to keep the packaging compact and light as much as possible. 
+  Labeling is essential: Properly label each product and its packaging according to Amazon's guidelines so your products are recognized easily, customs don't hold your parcels, and delivery is done at the proper warehouses. 
+ Understand customs and duties: The biggest issue with overseas products is the customs, as even for a small misprinting, they can hold your cargo for days, fine you hundreds of dollars, or even destroy your parcel ( in case you don't respond well ). So, you must familiarize yourself with all customs requirements and collect all paperwork before shipment. However, by sitting in another country, it's nearly impossible, so it's best to hire a freight forwarder in China and ask them to handle every document. 
+  Plan for lead times: Factor in shipping and customs processing times to meet your product launch or restocking deadlines. 
+  Ensure your shipment: Consider insurance to safeguard against loss or damage during transit. 
+  Monitor the shipment: Stay informed about your shipment's progress and regularly communicate with your freight forwarder. 
+ Prepare for unexpected delays: Allow some buffer time for any unforeseen issues that may arise during shipping. 
+ Keep records: Maintain detailed documentation of your shipment's journey for reference and future improvements.
12. How to track your cargo shipped from China to Amazon FBA centers?
In the 21st century, with everything on the internet, tracking a parcel by sitting at another corner of the world is a piece of cake, and you can follow the below steps for that;
i) Carrier's Website: Until it reaches the Amazon warehouse, you can track the shipment from the shipment company website. Just go to the website and enter the tracking number ( mentioned on the bill slip ) > finally, you will see your shipment's last updated location. It is important to note different methods and companies' update times, such as DHL updating packages' locations every few hours, while sea freight updating after weeks. 
ii) Amazon Account: When your shipment reaches Amazon FBA warehouses, it will be inspected before it becomes available for sale. To review your current status, log in to your Amazon account, and you can check if the cargo has reached Amazon, whether it is being inspected, etc. You can then check the status of your inventory once it's available for sale in your Seller Central account under the "Manage FBA Inventory" section.
13. Benefits of Shipping Goods to Amazon FBA by Freight forwarder
If you don't know how Amazon FBA shipping works, you need someone who does. That's where a freight forwarding company plays its role.
A reliable Amazon FBA freight forwarder can safely and efficiently move your goods from China to Amazon FBA.
So, when wondering, "Do I need a freight forwarder to ship my goods to Amazon FBA," the straightforward answer is "Yes."
Here are some of the reasons to hire a freight forwarding company.
Lower Shipping Costs: Freight forwarders offer competitive services, helping shippers save money.

Better Customs Handling: A good freight forwarder understands all shipping logistics to Amazon FBA, including customs clearance.

Additional Services: Besides facilitating the shipping process to Amazon FBA, freight forwarders offer more services that improve shipping efficiency.

Better Rapport with Shipping Companies: Most freight forwarders have established relationships with other shipping companies.
Conclusion
Shipping to Amazon's FBA centers from China offers online sellers and businesses numerous benefits, including access to Amazon Prime customers, improved Buy Box chances, and outsourced logistics. Preparing products according to Amazon's FBA requirements and working with a reliable freight forwarder like Winsky Freight is essential to ensure a smooth shipping process.
By following these guidelines and tips, sellers can successfully navigate the shipping process, reach a broader audience, and leverage Amazon's vast infrastructure to grow their e-commerce business on the world's largest platform. Contact us now for a free shipping quote for your next shipment to Amazon.