How do we help you with Dropshipping from China?
Dropshipping is a new business model where an online store sells products to end-users, but the products are sent directly from the dropshipping suppliers to the final consumer without being handled or stored by the online store retailer. The dropship suppliers could be a manufacturer, distributor, or trading company. Dropshipping is a direct business model that requires store retailers to work closely with their goods suppliers, ensuring a seamless supply chain.
This partnership between the retailer and the supplier of the good is what makes dropshipping different from other business models. You don't have to buy the products in advance or pay for warehouse fee to store them. You don't have to keep anything yourself. All you need to do is have an online store, and do marketing to sells well and make sure your fulfillment process is running smoothly.
What're the problems of dropshipping for the online retailer that will meet from drop-shipper?
1. Slower Shipping Times 
According to studies, shipping time is a top factor in online shoppers buying decisions.  Dropshipping your orders from suppliers instead of managing your logistics usually means slower shipping times. In our local business, we were pushed by shoppers demand to start and keep our best sellers in stock to stay competitive with the local market in terms of delivery times. While some shoppers were happy to wait a few extra days while we drop shipped the product to them from overseas.
 2. High Shipping Costs by working with 2 or more drop ship distributor
Sometimes, you will require the use of several dropship suppliers to delivery out the product for your store.
Using 2 or more different dropshippers means that 2 or more suppliers need to making separate shipments to your clients, which means that 2 or more suppliers will be charging you their own separate shipping costs.

How to solve problem's of dropshipping for online retailers meet from dropship suppliers?
The only way around this is to only use one third party drop shipper which can collect all your products from different dropshipper suppliers, and send together for your end customers, the result is that you will reduce these extra costs onto the consumer which can reduce your selling price.
As the third party drop shipper, we will choose a suitable shipping channel for you customer, depending on the product value and weight, the fast shipping channel like DHL, FedEx, UPS for high goods value, and time urgently, if it is not seasonal and urgent goods, we have many recommended shipping channels like ePacket, economic special airline, PostNL, etc.
So what is the difference between a manufacturer, a wholesaler and a third party drop shipper?
A manufacturer is the actual producer of a product. For example, LG is the manufacturer of the computers.
A wholesaler is anyone who buys directly from the manufacturer and resells to retailers at discount wholesale prices.
A drop shipper is anyone who will ship a product for you directly to your customer.
The Third Party dropshipper is the one who do the job for drop shipper like manufacturer and wholesalers.
So it's possible for both a manufacturer and a wholesaler to be a drop shipper. If you find a manufacturer who is willing to ship their products directly to customers for you, they will be acting as a drop shipper. Also any wholesaler who will ship to your customers directly on your behalf is also a drop shipper, in fact, seldom suppliers is willing to do the drop ship works, they prefer to manufacture and sell products only.
And here's how we work as dropshiper for you:
1. Your online store customer places an order with your business.
2. You contact manufacturer or the wholesaler to deliver the order to our warehouse.
3. You send us the customer order list by Excel or CSV files.
4.We do as the Drop-Shipping Partner — make single packages, labeling and ships the product to your end customers.

Free Inventory Storage Service:
Our drop shipping service also allows you to start your dropshipping business with our 2 months Free Inventory storage service, and you can buy inventory a better price, and all products can be held in our warehouse.
What is the popular dropshipping channel we do for online retailer?
ePacket delivery is a shipping option offered by merchants in China and Hong Kong. It is an agreement between the US Postal Service (USPS) and Hong Kong Post. The goal is to increase international ecommerce sales for China. It allows for faster ePacket delivery of products coming from China and Hong Kong to a number of different countries. Merchants can send small packages weighing up to 2 kg (4.4 lbs).
Epacket Label for package delivery:

Advantages of ePacket Delivery
Faster: As we know,standard methods of drop ship delivery from China would usually take months, however, ePacket shipping makes it relatively faster than the standard methods. Although you would not be as fast as bigger marketplaces such as Amazon, as a smaller online business store owner, you can still expect your shipment to reach your customers in the USA of 7 to 15
Cheaper: No clientsis willing to pay $40 in shipping for a product that costs $5 because it makes no sense to buy from China. That is exactly how much standard shipping for smaller and relatively cheap items would cost without the ePacket shipping service, but ePacket is able to reduce the shipping costs a lot.
Delivery Confirmation and Package Tracking: With the speediness of services such as Amazon Prime available to customers, there may be a bit of uncertainty or anxiety for them when their package does not arrive within a week. Allowing customers to track their purchases instills confidence in them about your brand and a delivery confirmation ensures that both parties know that the transaction has been completed.
Positive Impact on Conversion Rates:When customers realize that shipping is faster for the products they order from merchants who offer ePacket shipping, it will almost always leave a positive impact on them. This is a great advantage as customer conversion rate for ecommerce businesses get a boost due to the faster shipping that ePacket services provide.
But kindly note ePacket is not available Worldwide, now only 38 countries have ePacket shipping available from China.
USPS presents eligibility criteria based on height weight size and value. Every product has to fulfill the entire requirement on those fields to become eligible for ePacket shipment.
There are some requirements that have to be fulfilled to use the ePacket shipment.
The package/parcel requirement and rolls requirement are slightly different here.
Package requirements:
Weight – The product's weight must not exceed than 2 kilos (4.4 lbs) – includes the weight of shipping box + any packaging or filling material.
Value/Price – The product price should be equal or less than $400 and must be delivered to the countries eligible for ePacket shipment.
Height and Length – The length of the package should not exceed 24 inches (60 cm). The length, height, and width altogether should not exceed 36 inches (90 cm).
Rolls Eligibility
The rolled up packages weight, and value requirement is the same; however, the length requirement is different.
Maximum Length
The length of rolls should not exceed 36 inches (90 cm).
The length plus twice the size of diameter should not be more than 42 inches (104 cm).
Length + 2(diameter) = 42 inches (104 cm)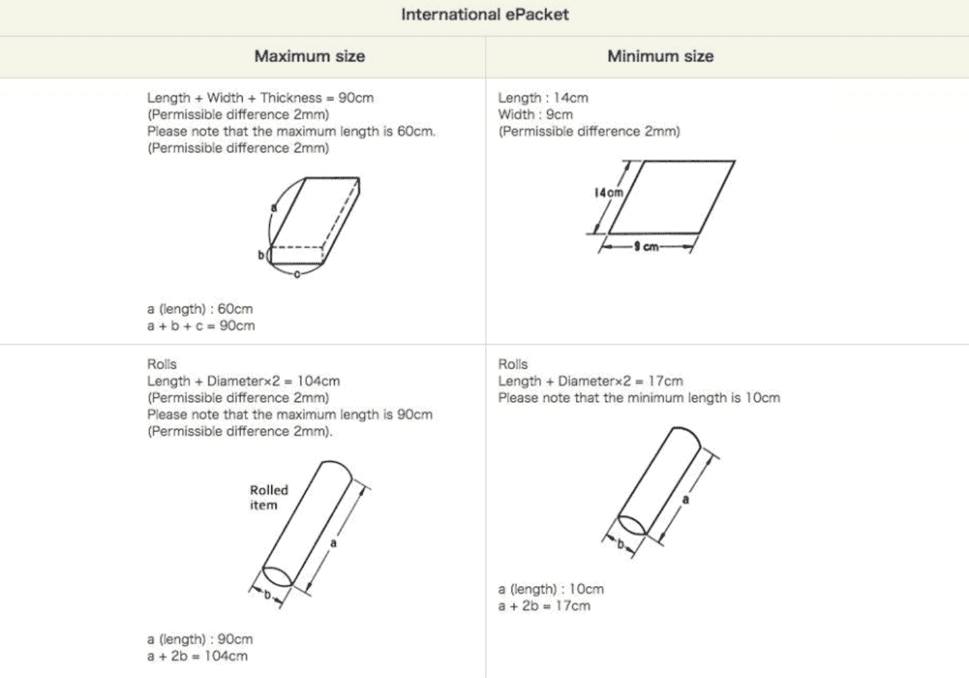 What Should You do if the ePacket shipping is Delayed?
One of the advantages of using ePacket delivery is that there aren't that many delays. You may experience delays during busy times like holidays, but in general, ePackets are pretty reliable. However, it's important to provide the best customer service you possibly can to any disgruntled customers that may be confused about where their packages are located.
Since delays rarely happen, it's best to go above and beyond with this particular customer so that they'll continue to be a customer and potentially share their great customer service experience with other people. In short, you'd most likely be better off telling your customer about the situation and shipping out a replacement item with a tracking code. Then, tell them to keep both of the items and use it for themselves or to give to someone else.
If that doesn't seem like it would work for your company, you can typically settle these disputes by offering transaction information and whatever tracking number was sent along with it. In short, you take advantage of the fact that ePackets have tracking codes on them all the time. The customer shouldn't be confused about where the item is, because they have the trusty tracking code.
Below is the average ePacket Shipping Times for you reference:
For most supported countries: 7-10 business days
Vietnam: 5-7 business days
Russia, Ukraine and Saudi Arabia: 7-15 business days
Mexico: 20 business days
Brazil: 20 to 30 business days
ePacket Tracking- How to track ePacket delivery from China?
Some customers might not know exactly where to go or how to copy that code to see when the item's coming in.  You can just direct your customers to the exact tracking URL: 17track.net, where they can copy and paste in the ePacket tracking code.
The ePacket tracking codes can be obtained through us. You can track by website directly 17track.net, or ePacket shipments by using USPS , ePacket China Air Post,
How Do Customs Work with ePacket Delivery?
Sending your ePackets through customs is often an inevitable part of the delivery process. It depends on the country in which you're sending your package, but you can expect many of the borders to have customs and additional fees such as taxes or even insurance charges. Some other expenses might include duties, freight, or simple port of entry fees based on the geographical location of your customer.
The good news for you as a merchant is that you almost never have to pay anything like customs, duties, or taxes when sending out ePacket. Instead, customers are the ones that are required to pay any of those fees when the package arrives. It's not a bad idea to include this disclosure on your website so that your customers don't get disgruntled when they have to pay even more money at their door.
That said, many countries don't even have these fees.
The best plan is to check local laws of the countries that you shipped to frequently. You would ask them what taxes, customs, and duties your customers might have to pay for all imported purchases. Some of the fees might depend on which types of items you're sending as well. Overall, it's best to know the laws of the countries to which you ship.
If you need to choose more dropshipping Channels or for more information, you can browse our service page at: Drop shipping
What kind of product and shop we mostly do for dropshipping?
Mostly we do the dropshipping business for shopify, Shopee, ebay and other online retailers, as the third party dropshippers, the dropshipping products we usually do are jewelries, cosmetics, clothes, beauty products, and dropship pet supplies.
What kind of fees do drop shipping companies charge?
Per Order Fee: It's common for a third party drop shippers to charge a per-order fee to cover the expense involved with packaging, labeling and shipping operation for an individual product. The fees are starting from US$0.5/pc, and they can be little higher for items that are extremely large or difficult to process.
What is the payment process? 
We charge the fee as soon as you submit an order, or we can send you a monthly bill when you become our regular customers, the payment way we can accept are Payoneer Card, Paypal, Western Union and T/T bank.