Amazon FBA Freight Forwarder | Your Complete Guide in 2023
It's not easy to find an Amazon freight forwarder at an affordable cost that will not compromise their quality. With our decade-old experience, we have compiled the guide on "How to choose the best Amazon Freight Forwarder" so that you can pick one that suits you the most.
1. What is an Amazon Freight Forwarder?
Amazon Freight Forwarders handle the complicated process of transporting your products to Amazon's FBA warehouses. They do various tasks to ensure your goods' safe shipment to Amazon Warehouses. This covers transportation, carrier coordination, document management, and customs compliance.
The shipping industry's profound understanding allows these professionals to optimize the entire process. They have the expertise to reduce delays and negotiate international trade.
A significant element of an Amazon Freight Forwarder's job is keeping all parties informed throughout the cargo process. This transparency keeps everyone informed and reduces the likelihood of misunderstandings or mistakes.
These specialists are strategic partners for organizations looking to develop into e-commerce, especially on Amazon.
2. What Exactly Does a Freight Forwarder Do? 
So, what exactly does an Amazon freight forwarder do? Most of them are regular freight forwarding companies. Therefore, international shipping is their daily livelihood.
They are experts in this industry and know how to smoothly transfer your goods to the Amazon warehouse without any trouble.
However, not all Amazon goods forwarders are created equal regarding their services. But most of them will do the following:
Documentation and Customs Clearance: Preparing documentation is their primary duty. They manage bills of lading, business invoices, packing lists, and certificates of origin. To streamline import and export clearance, they navigate customs restrictions.
Carrier Selection: An Amazon Freight Forwarder carefully selects dependable carriers with competitive rates for air, ocean, and land freight.
Shipment Tracking and Monitoring: Amazon Freight Forwarders use modern tracking technologies to monitor shipments. This lets them quickly resolve transit concerns and update clients on delivery dates.
Consolidation Services: When delivering internationally or domestically, a goods forwarder may consolidate multiple shipments into one larger package to save money and time.
Warehousing Solutions: An expert freight forwarder coordinates storage for firms using Amazon FBA fulfillment centers or warehouses.
Last-mile delivery: Freight forwarders may deliver Amazon fulfillment center merchandise to customers. It is an optional task.
3. Benefits of Using a Freight Forwarder for Amazon FBA
For FBA sellers, using an Amazon Freight Forwarder can have many benefits. These professionals simplify The shipping process, making it easy for sellers. When managing FBA shipments, a freight forwarder has certain advantages:
Logistics efficiency

: Amazon Freight Forwarders are experts at international shipping and can handle complex logistics operations. They coordinate shipping and customs documentation to move products smoothly.

Affordable options

: Through cargo consolidation and relationships with several shipping companies, freight forwarders can secure competitive rates for Amazon FBA sellers. Intelligent routing and container space optimization reduce costs and ensure delivery times.

Global reach

: If you buy from foreign suppliers or plan to expand internationally, Amazon Freight Forwarders can assist you in navigating customs regulations and finding the most efficient methods to get your goods to customers as quickly as possible.

Simplified customs procedures

: Many FBA sellers find international trade's complex customs restrictions and paperwork daunting. A skilled freight forwarder can ease the clearance process by precisely submitting business invoices and certificates of origin.

Warehouse services

: Some freight forwarders store and distribute inventory before shipment or after arrival at fulfillment centers. The products from numerous vendors can be consolidated before being sent to Amazon's warehouses.

Mitigation

: A reliable Amazon Freight Forwarder recognizes transit risks, including damage or loss.

Specialized Knowledge

: A freight forwarder with expertise in perishables, hazardous materials, and other industries helps assure safe and compliant transportation.
4. How to Choose the Best Amazon Freight Forwarder? 
Though there are many factors to look after, something you can not ignore:
Understand Your Needs
Determine first if you will be shipping mostly little packages or mostly huge bulk orders. Think about things like turnaround time, price, ability to handle variations in product kind, and geographic reach.
Do you ship inside the same country or across international borders? Freight forwarders can be further subdivided into those who specialize in shipping via air, sea, land, or rail. With a thorough understanding of your needs, you can zero in on the best Amazon supply chain alternatives that support your company's goals.
Understand the Services the Freight Forwarder Provides
A reliable freight forwarder should provide Amazon merchants with global shipping alternatives that include both air and ocean freight. They should also be familiar with international commerce legislation and the customs clearance processes involved.
Look for additional services such as storage and shipping, order monitoring, insurance alternatives, and stock management support. To get your Amazon orders where they need to go quickly and affordably, you need a freight forwarder with a global network of carriers and connections.
Careful consideration of these aspects in light of your unique business needs will lead you to the most qualified freight forwarding service provider to meet your Amazon business's needs.
Look for Expertise on Your Shipping Route
Finding a company with specific shipping route knowledge is crucial when trying to decide which Amazon Freight Forwarder to choose. Doing so will guarantee your items a smooth and efficient journey.
Find freight forwarders that have experience with shipments to and from your desired location. Find experts who are familiar with the route you want to take and its customs procedures, documentation needs, and potential difficulties.
A good Amazon freight forwarder will know their way around the various ports, planes, and trucking networks they'll encounter on their journey. This knowledge will be extremely helpful in the event of any unforeseen transportation delays or difficulties.
Keep in mind that both you and your clients will profit from your expertise and familiarity with a particular shipping route, as the former will lessen the likelihood of delivery problems while the latter will shorten transit times.
Check the Reputation of the Amazon Freight Forwarder
You must select a reliable forwarder. It would help first to examine what other people say about them online. Read feedback left by previous customers. These testimonials may teach you a lot about their reliability in delivering on time.
Check to discover if they have any certifications or honors; this is another evidence of their excellence. You can determine if they are the best option for your company by looking into these factors.
Make a Shortlist after Proper Research 
After doing proper research, start shortlisting freight forwarders. This is a crucial step because you will contact these operators individually and look for certain qualities in them, such as price quotations, delivery deadlines, customer support, etc.
If you need someone who can easily manage the complexities of international logistics, look for someone with vast expertise in exporting products from various nations and locations. The range of extra services and price models each forwarder offers should also be considered.
Look after the Freight Forwarder's Communication and Support skills 
You need a freight forwarder who can answer questions and help with shipping. Efficient and honest communication is essential to stay informed about your shipments and any delays and get fast responses to your questions.
A reliable Amazon Freight Forwarder will offer phone, email, and instant messaging like WhatsApp or WeChat. This allows you to easily communicate with the freight forwarder's team at your convenience.
They should also have excellent support staff who understand foreign shipping regulations, customs requirements, documentation procedures, and other Amazon FBA shipment-specific issues. Their experience guarantees that all documentation is done correctly and follows Amazon's rules so your products can pass through customs without delays.
Contact several Amazon Freight Forwarders and Ask Quotes. 
The most important part is getting quotations from many freight forwarders with experience with Amazon shipments. Compare prices and quality of service across different providers at this crucial stage.
By contacting them, you may find out whether they have worked with Amazon before and if they understand the platform's unique logistical restrictions and requirements.
Having open lines of communication with these possible partners also allows you to gauge their responsiveness and professionalism, both of which are essential for efficient shipping operations.
Key Questions to Ask Before Making a Final Decision
Can the freight forwarder manage Amazon shipments effectively?

Will they provide cost-effective solutions tailored to your needs?

Do they offer guidance on meeting Amazon's requirements?

What's their experience with shipping from your product's origin country?

How about shipping to your destination country?

How do they help you cut down on expenses?

How do they keep you informed about your shipments?

What's their approach to tracking and managing stock levels?

If you need to restock quickly, how can they assist you?

What kind of support do they offer in case of unexpected issues?
This video will help you further.
5. What Information Does a Freight Forwarder Need?
Shipment Details: Description of the cargo, including type, dimensions, weight, and quantity.
Origin and Destination: Pickup and delivery locations with complete addresses and contact info.
Incoterms: Agreed-upon terms for costs and responsibilities in the trade agreement. Though the incoterms depend on your preferences, Ex-work and DDP are the most used incoterms for Amazon FBA.
Shipping Method: Modes of transportation, like air, sea, road, or a mix.
Packing and Labeling: How goods are packaged for safe transit, including labeling instructions.
Documentation: Relevant paperwork such as invoices, certificates, and customs documents.
Value and Insurance: Declared value and whether cargo insurance is required.
Shipping Schedule: Preferred pickup and delivery dates.
Special Requirements: Any specific handling needs, temperature control, or other special instructions.
Contact Information: Names, addresses, and contacts of parties involved.
Regulatory Compliance: Ensuring adherence to import/export rules.
Customs Information: Relevant customs codes and duties linked to the goods.
6. Top 10 Amazon freight forwarder
Winsky Freight
Since 2010, Winsky Freight has been one of the best China FBA freight forwarders, specializing in shipments from China to Amazon FBA.
We are the go-to logistics experts in managing DDP Air Freight, Sea Freight, and Railway Freight for Amazon shipments. Our group expeditiously collects packages from numerous Chinese wholesalers and delivers them to the specified Amazon FBA storage facilities.
We have built relationships with the best shipping companies and can offer you the lowest possible shipping rates to Amazon fulfillment centers.
All shipments to Amazon are cleared through customs following local laws by our specialized import customs clearance team. We have reliable access to storage space, ensuring that your Amazon FBA shipments from China arrive safely and on time.
FlexPort
Major freight forwarder Flexport's tech-enabled solutions benefit Amazon FBA vendors. This state-of-the-art program ensures customs conformity and real-time tracking for businesses while streamlining shipping management.
Flexport can help Amazon sellers save money on shipping by optimizing delivery routes and combining shipments. Their services streamline international logistics, conform to Amazon's FBA requirements, and aid retailers in providing swift, effective transport to Amazon's distribution centers.
Shapiro
Samuel Shapiro & Company, Inc., founded in 1915 by 20-year-old Samuel Shapiro, became a shipping powerhouse. From humble roots and beliefs, Shapiro developed a heritage of financial security, integrity, and reliable solutions.
Today, Shapiro is a respected freight forwarder with a strong relationship with government agencies and a creative workforce that meets shipping needs. Shapiro's expertise assures easy international shipment for Amazon FBA services, continuing their record of reliability and compassion.
BGI Worldwide Logistics
BGI Worldwide Logistics is a primary logistics provider with many shipping options. BGI has been known for excellence and innovation since its founding. The organization is trusted by businesses seeking efficient freight forwarding services due to its long history. BGI's professional team navigates international shipping to deliver goods to Amazon's FBA facilities.
Universal Cargo
In the field of cargo forwarding and international shipping, Universal Cargo stands out as a significant operator. Due to its long history and solid reputation, the organization has been a dependable partner for enterprises looking for all-encompassing logistics solutions.
Universal Cargo has become an industry standard built on a foundation of reliability and effectiveness.
Universal Cargo is a freight forwarder that goes above and beyond by assisting Amazon FBA sellers.Consistent with their history of reliable service, their skilled workforce guarantees trouble-free delivery to Amazon's FBA warehouses.
UniCargo
Their skill as FBA Masters has allowed them to ship to Amazon's FBA facilities from the start. You can trust them to provide prompt, safe, and cost-effective answers. You may put all of your attention toward expanding your Amazon business thanks to their seamless integration with FBA warehouses.
Your shipment will be expertly managed thanks to strategically located regional offices. Unicargo's services are designed to help Amazon sellers of all sizes, so you can rest assured that your logistics will be managed efficiently and successfully.
Shipping Pilot
Shipping Pilot is the answer for Amazon sellers who want a cheaper alternative to Amazon FBA. They are compatible with Amazon's Seller Fulfilled Prime (SFP) program, which guarantees delivery within two business days.
You can save time and money by having Shipping Pilot ship directly to your U.S. Prime clients from their facilities. This method allows small firms to take advantage of bulk shipping discounts without incurring additional costs.
There are no catches; they merely get a discount. Also, why be confined to enormous houses? As your company expands, you may quickly scale by renting only the additional space you require.
Transworld Shipping
Transworld Shipping is a global logistics powerhouse that focuses only on Amazon FBA. With their assistance, Amazon sellers can manage international shipping with ease.
They have a devoted team that will get your products to Amazon's FBA warehouses on time. Because Amazon has such stringent requirements, Transworld Shipping takes extra care in preparing and handling your shipments.
Easyship
Easyship is a comprehensive shipping platform for e-commerce firms, including Amazon FBA users. It's for convenience. Its simple UI won't confuse you. It helps with the shipment. It even lets you compare couriers in real-time to choose the best one. No wait.
Another nice feature is that it handles customs documents. No complicated paperwork to worry about. Additionally, Amazon sellers benefit from this. Amazon FBA and Easyship integrate well. It's like old pals. So you can focus on your business without worrying about delivery.
Red Stag Fulfillment
For online retailers in need of dependable and efficient order fulfillment, Red Stag Fulfillment offers Amazon FBA services, among other options. Red Stag is an industry leader in the preparation of goods for Amazon FBA warehouses, with a focus on accuracy and precision in inventory management, packaging, and shipping.
7. Amazon FBA Freight Forwarders: Costs and Fees
It all begins with the money spent getting the items from the manufacturer to the forwarder's storage facility, which can vary widely based on distance and weight. Moreover, freight forwarders will charge you for services like bundling and packaging to safeguard your goods during transport.
You may also be responsible for customs clearance expenses when your shipment reaches its final destination country. Importing into a new market will incur various fees, such as those imposed by local authorities.
Remember that specific freight forwarders offer extras like labeling and quality control checks for an additional fee. The final factor to consider when budgeting is the cost of travel from the forwarding warehouse to the Amazon fulfillment facilities.
Probable Costs:
Shipping cost from the supplier to the forwarder's warehouse.
Consolidation and packaging services.
Customs clearance fees (including duties and taxes).
Value-added services (labeling or quality control inspections).
Transportation fee from forwarding warehouse to Amazon fulfillment centers
8. What Is the Liability of a Freight Forwarder Agent?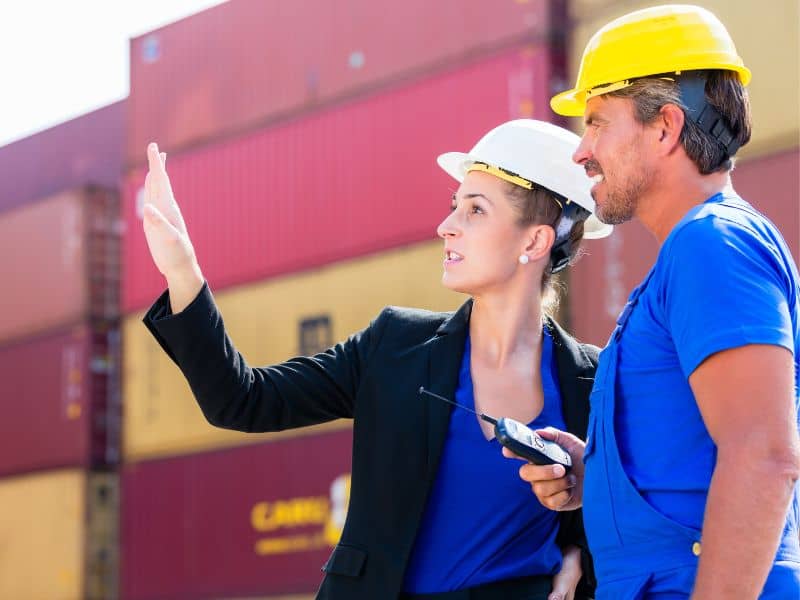 An agent for a freight forwarding company is crucial to the smooth operation of their clients' shipping needs. But what are their Liabilities? Let's dissect that:
Agent's Responsibilities in Freight Forwarding
Carrier Selection: First and foremost, a freight forwarder agent is responsible for selecting the most suitable carrier for moving products. Here, they're on the hook for ensuring the chosen page is in good standing with the law and adequately insured.
Documentation: Second, a freight forwarder agent handles the necessary paperwork, including bills of lading and customs forms. They are responsible for accurately filling out these forms to avoid delays or legal complications.
Packaging and Labeling: Thirdly, labeling and packaging must be done correctly to ensure the product's safety while in transportation. To prevent accidents and damage, freight forwarder agents must ensure their clients follow all relevant regulations.
Customs Compliance: Complying with customs requirements might be easier with professional guidance. Therefore, a reliable freight forwarder agent should be well-versed in the various permissions, licenses, taxes, and fees that must be paid to process foreign shipments.
Insurance Coverage: While not always required, a reputable freight forwarder agent can help you mitigate risks associated with transportation operations by securing cargo insurance.
Providing Information: Sixth, they should be forthright with information on delivery estimates and any problems that may emerge during shipment.
9. Amazon's Terms and Conditions for Freight Forwarding
Amazon has specific guidelines for Freight forwarding and carrying items. Here is the summary of Amazon's terms and conditions for freight forwarding:
Amazon holds no responsibility for damage, loss, or defects occurring after delivery to you or a freight forwarder. No replacement or refund is provided for shipments taken outside the U.S. via these methods.
If you or a chosen freight forwarder have a U.S. address and buy goods from Amazon for U.S. delivery, you become the exporter. You're responsible for adhering to export and import regulations, including U.S. export laws and the destination country's import rules.
If neither you nor a freight forwarder hold a U.S. residence and buy U.S.-delivered goods from Amazon, export requires prior written Amazon authorization.
Items ineligible for direct export from Amazon cannot be returned to Amazon after personal or freight forwarder export. Items eligible for international shipping can be exported and returned to Amazon.
Returning Amazon-exported items designates you as the importer and exporter. Amazon won't serve as the importer on such returns.
International return labels don't apply for freight forwarder or hand-carry exports. To use an Amazon return label, return goods to a U.S. address first, then utilize the tag to return to the listed Amazon fulfillment center.
Note: Freight forwarder or hand-carry exports exclude international return labels. Use the provided Return Mailing Label for U.S. domestic shipments after returning goods to a U.S. address. Upon receipt at Amazon's fulfillment center, the title and risk of loss transfer to Amazon.
Here is a detailed guide on How to Create an Amazon Shipping Plan
10. How Can I Ship to Amazon for Cheap?
You may wonder how to ship items cheaply if you have an online store and want to attract many Amazon customers. Don't be afraid! You can reduce your costs by adapting some strategies.
Consider reducing the number of packages you send. You can save money by purchasing many items together. This way, the postage for each package is reduced, yet they are still sent in one batch.
You can reduce the cost if the packaging is good. Good packaging means reduced space and reduced space results in cutting costs. Suitable packaging materials also can reduce costs. Therefore, pick a freight forwarder who has a dedicated packaging department.
Finding cheaper alternatives to traditional modes of transport is another option. Try more affordable transportation methods like trains or ships to transport many products long distances.
As a final piece of advice, don't hesitate to consult with shipping businesses or logistics experts who are familiar with online sales or who already work with Amazon. You may be able to negotiate more favorable terms and rates once trust has been established.
11. FAQs
Why would I need an Amazon freight forwarder?
Shipments to Amazon FBA warehouses are simplified with the help of Amazon's freight forwarders. Your products will make it to Amazon's FBA facilities quickly and by all applicable standards because they will manage the logistics, paperwork, and customs clearance.
How to Compare Different Freight Forwarders
The experience, services, worldwide network, cost transparency, and client ratings of freight forwarders are all essential to consider when deciding which one to choose. To choose the best Amazon FBA delivery partner for your business, you should ask about.
Does Amazon offer Freight Forwarding Service?
Amazon does have its own freight forwarding service it calls "Amazon Freight." It's made to help Amazon sellers, especially those in the FBA program, find affordable and dependable delivery options. However, they can only handle maritime shipments when it comes to freight forwarding.
Does Amazon Cover the Freight Forwarding Shipping Costs for FBA?
No, Amazon does not pay for FBA shipping forwarding fees. Transport from your supplier to Amazon's fulfillment hubs is your responsibility. Having an awareness of logistics and customs can help cut expenses. For more competitive pricing, factor in delivery expenses. Take control of your inventory and costs to sell successfully on Amazon and grow internationally.
What's the Role of a Freight Forwarder in Customs Clearance?
Customs clearance is the most critical part of any international shipping. Your efforts can be ruined if you don't complete this step perfectly. Freight forwarders are experts in international trade and customs clearance.
Other agencies offer customs clearance services, adding additional costs to your shipment. So, using a freight forwarder as your customs clearance agency will reduce costs and simplify the entire shipping process.
What should I do if I encounter any issues with my Shipments?
If there are shipment problems, contact your freight forwarder or logistics provider first. If it's an Amazon FBA-related problem, check out the company's help center or contact seller support for guidance.
12. Why Choose Winsky as your Amazon Freight Forwarder? 
As an Amazon seller, navigating the intricacies of international shipping is paramount. With Winsky Freight, an established Amazon freight forwarder in China, you gain a trusted partner to simplify your FBA transportation needs. Here's why Winsky stands out:
Comprehensive FBA Solutions Whether you're a small or large Amazon seller, our tailored solutions address FBA transportation challenges. We ensure seamless shipping to Amazon warehouses worldwide from the United States and Canada to Europe, China, Japan, and beyond.
Enhanced Amazon Store Performance By utilizing our services, you unlock the potential for improved Amazon store rankings, increased sales, and a greater chance of securing the Buy Box. Our robust logistics system optimizes delivery times, enhancing user experiences and service quality.
Diverse Shipping Options We offer various shipping modes to match your requirements:
Ocean Freight Door to Door:

 Efficient sea shipping to Amazon warehouses, including tax and customs clearance service in the United States.

Rail Transportation Door to Door:

 

Reliable railway transport to EU countries

, streamlined by local UPS DPD delivery.

Air Shipping Door to Door:

 Affordable 

air freight

, especially beneficial for large-volume or seasonal products.

International Express Door to Door:

 Swift international express delivery for small shipments, covering warehouses in various countries.
Global Reach, Local Expertise With agents in the USA and UK, we ensure smooth customs clearance and door-to-door delivery to Amazon warehouses. Our expertise extends across Amazon FBA shipping from China to the USA, Canada, Germany, the United Kingdom, Japan, and more.
Customized Logistics Solutions We tailor our logistics solutions based on your preferences, prioritizing time and cost-effectiveness. Our ability to consolidate cargo from different manufacturers streamlines the process.
Full-Service Approach We go beyond shipping to offer comprehensive services, including pick & pack, barcode labeling, and pallet packaging. We consolidate goods from various suppliers, prepare customs documents, and handle import and export procedures.