Everything You need to know about Air Waybill (AWB)
Are you involved in International trade or about to start a cross-border trade journey? If yes, then you should be aware of different legal documents that can support transparent transactions. These documents include Bill of Lading, commercial invoices, packing lists, certificates of origin, export licenses, and various other documents, based on the requirement of your shipment.
In this article, you will learn about the Air Waybill, one of the crucial documents for smooth Air cargo shipment. So, keep your eyes glued to the screen for a few minutes to receive valuable Information you might not know.
1. What is Air Waybill or AWB?
The Shipper and Airline or carrier need an Air Waybill or a legal contract for smooth international transportation. There is a great significance of AWB in global trade. This contract assures that you have selected a particular airline to ship goods from one country to another.
AWB acts as a proof or evidence that provides Information related to goods, shippers, and consignees. It is an assurance about the safe transportation of goods. Cross-border transport is a complex process and needs in-depth knowledge of the procedure involved to save time, avoid penalties, and make it a hurdle-free process.
Document preparation is another important step in transporting goods from one country to another, it is necessary to avoid delays and rejection of the shipment.
2. Why is it essential to understand Air Waybill?
As an international trader, your unawareness can prevent the smooth transportation of goods from one country to another. So you should understand it and focus on the proper completion of the Air waybill.
These are  the following issues which you may face if you don't have the right knowledge about this binding document.
AWB contains all the terms and conditions of transportation. It helps to understand the responsibilities of both carrier and Shipper while transporting goods.
After receiving AWB from a selected airline or freight forwarder, there is a need to fill in accurate Information about everything under all the sections. Negligence can lead to delays in shipment. Without the clarifications and corrections, no airline will accept your shipment.
It also affects the customs clearance process and may lead to rejection or penalties. If you have hired any freight forwarder to take care of your shipment, it is necessary to provide accurate information to avoid errors and misunderstandings.
AWB or Airwaybill contains the certificate of insurance coverage. It may affect your insurance coverage if you don't know about it. So, to avoid financial losses, you must understand it before filling in the shipment information. It supports your shipment from the start to the end of the shipment process.
So, the proper management and completion of documentation are crucial to avoid legal challenges and for successful trade operations from one country to another.
3. What are the categories of Air Waybill or AWB?
There are different AWB associated with specific shipments. So, it is necessary to gather knowledge about this legal document to enhance the shipping process. These different types are as follows:
Based on the Structure of Air Waybill
Air Waybill document follows a specific format or structure. So, Based on this structure, Air Waybill has two types. You can choose any of them depending upon your preference and shipping arrangement for air cargo transportation.
Neutral Air Waybill (Neutral AWB): As its name suggests, Neutral AWB is a type that follows a common or standardized format among multiple airlines for the transportation process. Freight forwarders or consolidators issue this to shippers. This gives the flexibility to choose suitable airline options for your shipment.
IATA sets some rules that international traders have to follow, but with this option, you don't have to follow such rules for transporting the goods. As it is not specific to any airline, it does not carry Information about carrier airlines.
The AWB document has different sections for Shipper, consignee, and shipment that need to be filled. The shippers or freight forwarders must fill all the areas carefully. In this option, you fill all the information on your own after interacting with this document, unlike Airline-specific Air Waybill.
Airline-Specific Air Waybill (Airline-Specific AWB): An Airline-Specific Air Waybill is not applicable for multiple airlines, and only a single airline can use it. It contains all the Information about the shipment, including the logo of the Airline.
In the case of Airline-specific Air Waybill, there is a need to adhere to all the rules and regulations according to IATA, unlike neutral AWB.
AWB Types Based on Issuer:
There are two types of AWB based on the issuer, and these are as follows:
House Air Waybill (HAWB):The HAWB is the binding document between the freight forwarder and the Shipper. The freight forwarder will issue this to the Shipper during goods transport. It plays a role when a freight forwarder has to handle multiple shipments from different shippers.
Master Air Waybill (MAWB):The MAWB is a primary contract between the Airline and Shipper or freight forwarder. Shippers get this from the Airline that is involved in transporting goods.
4. Who will provide Air Waybill?
When a shipper presents their shipment to the Airline, they generate an Air Waybill or AWB containing different sections. It is necessary to fill in the Shipper's Information, Consignee's Information, goods description, flight details, weight, and cargo dimensions in the required section of the AWB.
You have to ensure that all the information you have provided is relevant. If you are not directly handling the shipment and have hired a freight forwarder, you have to provide all the Information to them too.
After cross-checking all the Information, your shipment will get ready to cross the borders.
5. What is the Information included in Air Waybill?
The Air Waybill or AWB includes Information about the air freight shipment. This information is necessary to properly handle the load according to air cargo rules and regulations. The following are the key details present in AWB:
Shipper and Consignee Information:This form starts with the Information of the Shipper and then the consignee. It contains the name, address, and contact details of the consignor and consignee of transporting goods.
Details of Carrier Agent: AWB also has Information about the carrier agent's name, city, and Agent's IATA code.
Flight Details:In the AWB document, you can also get the Information about the flight number, departure airport, and destination airport for the cargo. It is the necessary Information for Tracking the shipment.
Goods Description:It has a goods description that includes the type of items, quantity, weight, volume, dimensions, and handling instructions. All this information is necessary to calculate the shipping charges.
Insurance Coverage: AWB also includes Information about the insurance coverage if the Shipper has purchased the insurance coveragefor the shipment. It gives Information about the amount of insurance and the insurance provider's name.
AWB Number:It contains the  Air waybill (AWB) number essential for tracking or monitoring the shipment from starting to final point.
Shipper's Signature and Date:Shipper's signature and date of acceptance is also required by the air carrier.
6. Is there any difference between an Air Waybill and a Bill of Lading?
Air Waybills and Bills of lading are transport documents and have crucial roles in international trade. But they both are different from each other. These differences are as follows:
Air Waybill or AWB
Applicable for Air Freight: Air Waybill contains different Information and is a relevant document in the case of Air freight. When shippers choose Air freight for their shipment transport, their airline or carrier issues AWB to them.
Non-Negotiable:An AWB is a non-negotiable document, which means it stays with the sender even after signing the paper throughout the transport process. You don't hand it over to others.
Ownership Not Transferred:If you have chosen air freight and got AWB, you will remain the shipment owner until it reaches the final destination. With this document, you don't transfer ownership. It stays with you during the journey.
The number of the Copy Issued: Air Waybill contains eight copies of the document for your shipment.
Bill of Lading or B/L
Applicable for Sea freight: Bill of Lading or B/L is appropriate for sea freight. When you choose ocean freight for transport, your carrier issues a Bill of lading that contains all the required Information about the shipment.
Negotiable:A Bill of Lading differs from AWB because it is a negotiable document, which means you can transfer this document to others.
Ownership Transfer:As an original shipper, you can transfer your ownership to others with the Bill of Lading document. After sharing the ownership, the new holder becomes the owner of the goods.
Number of Copies Issued: The number of copies in AWB and B/L differs. The carrier issues six copies of documents for your shipment in the Bill of Lading.
7. How does it take part in custom clearance during shipping from one country to another?
Customs clearance is crucial in transporting goods into and out of a country. Customs authorities have to check that your shipment is compliant with different laws or not. All countries have their custom clearance procedure, which you must follow accordingly.
There are different documents that shippers need to prepare for importing and exporting goods, and AWB is one of them. Sender has to submit this document to customs authorities, and based on the Information given, they determine the import duties, taxes, and tariffs for the shipment.
Air Waybill or AWB helps authorities to ensure that the shipment is authorized or unauthorized. If these documents are incomplete or the Information is irrelevant, they can reject your cargo and impose penalties or fines on the sender.
So, to avoid all these problems, you must be aware of the documentation preparation, and if you find a problem, then you should consult your freight forwarder.
8. How can Air Waybill help in Tracking?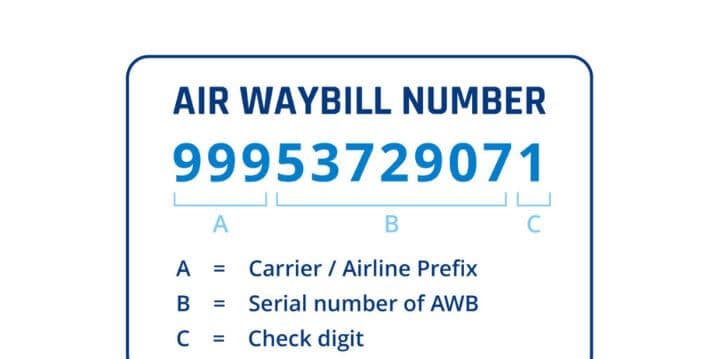 Tracking is necessary to get updates about the shipment from one country to another. It is the only way to get all the whereabouts throughout your entire journey. So as shippers, logistic providers, or consignees, you can monitor the shipment status from start to final destination. It takes care of shipment transparency and customer satisfaction.
With your Air Waybill, you also get an Air Waybill Number. You need to follow the following steps to track your shipment with this 11-digit number.
Obtain the AWB Number:The Airline you choose provides shipping documentation after accepting the shipment. If the freight forwarder handles your load, they provide you with an AWB number.
Visit the Carrier's Website:Your cargo carrier provides a website to track the shipment. Airlines have their tracking websites where you can track your shipments.
Find the Tracking Section:After visiting the website, go to the track section. You have to fill the AWB number in that section. Now after clicking on the track option, within a few seconds, all the updates will be on your screen.
Review the Shipment Status: It provides Information about location, departure, arrival times, and delivery date. If you face any trouble or issue, you must get assistance from customer care related to your shipment.
9. Conclusion
Ultimately, a better understanding of AWB helps you to go through complex steps of the  transportation process without any delays and rejections.
If you are involved in a business that requires international trade or you are planning to start a business that requires international trade then you should get in touch with Winsky freight and request a quote and with only a few steps we will make this entire process extremely easy for you.