Your Complete Guide: How to save Alibaba Shipping costs from China?
Alibaba is the largest wholesale platform for bulk buyers worldwide, and according to a report, in 2022 alone, around $134+ billion worth of products were sold. Most sellers on Alibaba are original manufacturers with middle agents and sell in bulk, so the product prices are incredibly low.
However, shipping from China is a real problem; sometimes, sending costs as much as the total product price or even more. And if you are a person who is looking for different shipment methods and techniques to lower final delivery prices so huge profits can be earned, then you are at the right spot.

1. What are Alibaba's shipping methods?
Alibaba sellers offer a variety of shipping platforms for their customers, such as;
China Post
Express Courier
 Air Freight
Sea Freight
Seller personnel method
1. China Post
"China Post is the cheapest & slowest shipping method for small packages."
In China Post, your package is delivered via government postal departments in China, it is handled by Hong Kong Post, and when it reaches your country, it will be given to your country's national postal office; that's why it is cheap.
However, as in most countries, government postal departments are slow and unreliable, so there is a high probability of late/wrong delivery and loss of parcels. Moreover, in China Post, your package is packed in a plastic bag or box, which makes them prone to damage.
China Post is only recommended when your parcel is small, like product samples, cheap products, etc. Never use China Post for important document delivery.
2. Express Courier
"Express Courier is the fastest & costliest shipping method."
Most Alibaba sellers will insist on this shipping if you order a sample product. In this method, the seller hands over your parcel to famous shipping companies like DHL, FedEx, UPS, etc., and they deliver your parcel via Airplane and then via land vehicles to your home address.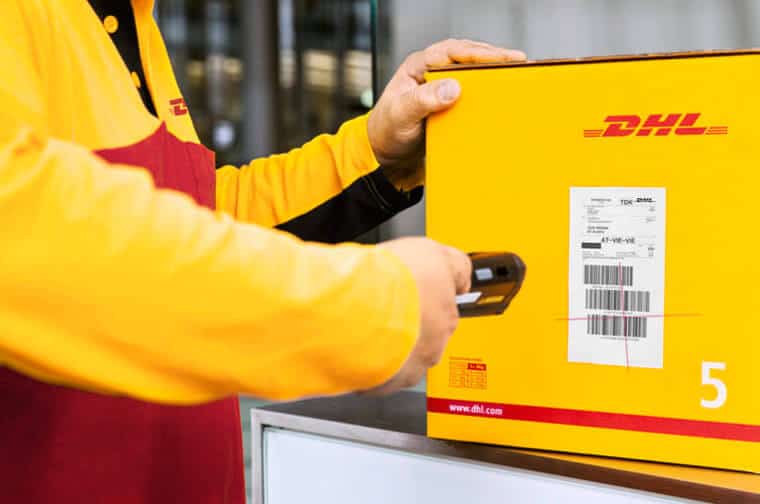 Courier companies can also deliver heavy & large packages, but it's not recommended because their prices are tens of times higher than normal shipment methods. So, only use the Express method if;
You want quick delivery ( like in small prototypes )
Your item is expensive ( laptops, mobiles, etc. )
You have important documents, and so on.
3. Air Freight
"Air Freight is the 2nd fastest shipping method in Alibaba."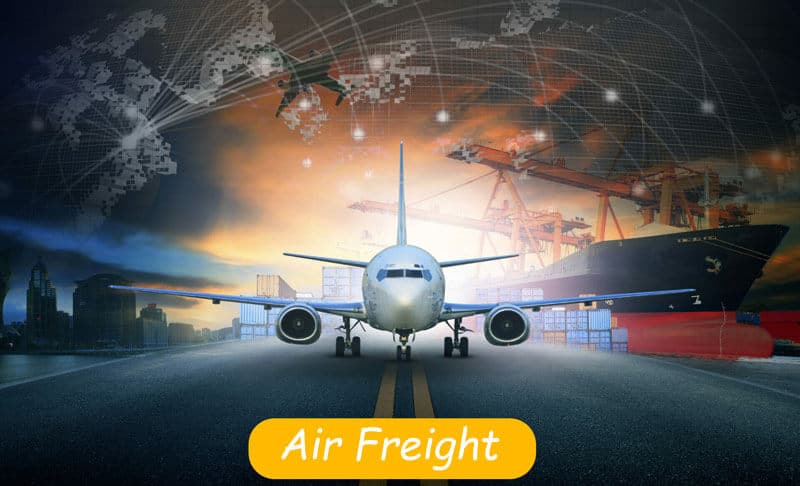 Air Freight is 2nd best option regarding Alibaba's numerous products delivery. In this method, a seller hands over your parcel to an airline company, and when it reaches your country, you have to receive it at the airport, or you can ask the seller to arrange to deliver it to your home address.
You can use Air Freight for small and large parcels if you want quick delivery.
4. Sea Freight
"Sea freight is the slowest but the cheapest Alibaba's shipping method for large shipments."
Regarding business, there is no better option than loading your products in a container and transporting them to your country via ocean ships. World-famous brands use this method because it lowers overall product costs ( purchase & custom costs are the same, but delivery costs are less ) and makes them earn huge profits.
So, if you have purchased many products from Alibaba sellers, ask them to ship your products via sea freight.
5. Seller personnel method
"Alibaba's sellers may also offer you shipment through unofficial channels with a guarantee to avoid customs charges."
Paying custom charges can be an otherwise because they can be 30% ~ 300% of the actual product price, and we all wish to avoid them. Fortunately, certain sellers offer duty-free delivery to their clients for one-piece products like laptops, ovens, etc., through unofficial methods. Well, it's attractive, but it is also the method used by scammers. However, you can differentiate a real & scammer from a payment sign; 
Real sellers will agree on the Alibaba Trade Assurance payment method in which if you don't receive a parcel, you get a full refund.
Scammers will never agree on Alibaba Trade assurance payment, and they will imply on Paypal, Western Union, etc., like methods, which have no refund policy.
So, always pay via Alibaba trade assurance, so in case of a scam, Alibaba can refund your full money.
2. What are Alibaba's shipping costs?
Alibaba's shipping costs will mainly depend on 2-factors;
Shipping method
Order size
Below, we will enlist which order size will be best for which shipment method and how much it will cost;
| | Recommended Order Size | Cost |
| --- | --- | --- |
|  China Post | | |
|  Express Courier | | |
|  Air Freight | | |
|  Sea Freight LCL | | |
|  Sea Freight FCL | | |
|  Railway Freight | | |
If you are buying a small parcel under 1 kg, the seller will automatically select DHL or another express courier, which will charge about $90 or so. And when you move up in weight, like 80 kg, the DHL prices will drop to $12 or so per kg. But unless you want the quickest delivery, never go with an express courier because their prices are sky-high.
3. How long does Alibaba shipping take?
Alibaba's orders delivery time depends on 3-methods;
Shipping method ( Air, Sea, etc. )
Delivery Service ( Door-to-Door or Port-to-Port )
Delivery distance ( how far your country is from China )
However, below you can see the average delivery time of various shipping methods irrespective of the country;
| | Port-to-Port | Door-to-Door |
| --- | --- | --- |
|  China Post |  — | |
|  Air Freight | | |
|  Sea Freight | | |
|  Railway Freight | | |
|  Express Courier | — | |
It is important to note that Railway freight is only available for Europe and UK. If you live on a different continent from China, like America, Africa, Australia, etc., railway freight is not an option.
4. Can you negotiate shipping costs with Alibaba suppliers?
Yes, you can negotiate with your Alibaba seller, especially if your order is very big. You see, first, you must understand how Alibaba shipping works, and only then can you confidently talk with sellers about discounts. The simple formula for Alibaba shipment is as follows;
Carriage cost + Seller Commission = Total Shipping Cost
As you can see, Alibaba sellers book a spot for your order, then they add their commission to it, and combing these two, they charge you the overall cost. They already charge you a lot for their order, so if you negotiate, they will lower their shipment cost ( not charge extra commission ).
Moreover, sellers are not freight forwarders, so they are not interested in how you get your product, and they only care about selling their products; that's why they go with their long-term shipping companies, which charge them a lot.
So, it's best to do shipping yourself or hire a Chinese freight forwarder to negotiate shipping costs.
5. Why is optimized packing necessary to cut down additional shipping costs?
In shipping, how you pack your parcel is a very important factor, and it can lower or add up to 50% cost of a parcel of the same weight.
You see, back in 2015, shipping companies only considered 2-factors;
Shipping distance
Parcel Weight
This old criterion has a major demerit for shipping companies because some people pack in boxes that are way bigger than the items' sizes. And as delivery vessels like airplanes, vehicles, ships, etc., have a limited area, most of their space goes to space due to these bigger boxes.
That's why shipping companies add another factor called dimensional weight, which also takes into account packing size, and if the packing size is way big than its estimated per kg size, then you have to pay extra.
"So, it is best to pack your parcel in a smaller box and don't leave any empty space because shipping companies these days also charge for space in addition to weight."
Actual Vs. Dimensional Vs. Chargeable Weights
Now, when you go to a shipping company, they will calculate;
 Then, they decide whether to charge for the actual or dimensional weight. This may all look complex, but below, we will calculate everything so you can pack well and save your money;
How to measure Actual Weight
How to measure Dimensional Weight?
How to decide on Chargeable Weight?
1. How to measure Actual weight?
"Actual weight is simply the weight of your parcel, which includes product and packing weight." 
Actual weight is also known as gross weight and is measured on a weight scale.
2. How to measure Dimensional Weight?
"Dimensional weight is estimated weight which is determined based on the package size."
Formula
Dimensional weight = L X W X H ( cm ) / DIM factor
L x W x H means Length x Width x Height
DIM factor determines how much weight is allowed per unit area ( like 1 kg allowed per cubic foot).
 The DIM factor is different for different shipping methods ( air, sea, railway ) and varies from company to company. However, in general, the DIM factors for shipping methods are;
| | Sea Freight | Express Couriers | Air Freight |
| --- | --- | --- | --- |
|  DIM Factor | | | |
Example
Let's say you are shipping by sea, and you have a parcel of 10 kg, which is 90 cm long, 30 cm wide, and 30 cm high. So, 10 kg is its actual weight, while its dimensional will be calculated as below;
Dimensional weight = Length X Width X Height / DIM Factor
( DIM Factor for sea freight is 1:6000 )
Dimensional weight = 90 x 90 x 90 / 6000 = 81,000 /6000 = 13.5 kg
So, the dimensional weight is 13.5 kg, and the actual weight is 10 kg.
3. How to determine Chargeable weight?
In the above example, we took a package of 10 kg, which measures about 90 cm x 30 cm x 30 cm. And we calculated its dimensional weight, which is 13.5 kg. So, now the thumb rule of chargeable weight will apply, which is;
"Whoever weight value is bigger will become the chargeable weight." 
So, in the above example,
Actual weight ( 10 kg ) is less than the dimensional weight ( 13.5 kg ), so, according to the chargeable weight higher value rule, dimensional weight will be considered when calculating the shipping bill, and you have to pay for 13.5 kg instead of the actual 10 kg weight.
In another parcel case, if the actual weight ( 25 kg ) is more than the dimensional weight ( 10 kg ), then according to the high-value rule, the actual weight will become the chargeable weight, and you will have to pay for 25 kg.
6. How to choose the best shipping method for Alibaba shipment?
Some people think the fastest shipping is the best, while others think the cheapest method is best; well, nobody is wrong here because everybody has different needs.
"The best Alibaba shipment method for you is the one that fulfills your needs." 
If your parcels are small, you can choose either cheap China Post ( for unimportant parcels ) or pricey Express Courier ( for vital parcels ).
If your parcels are medium weight, under 100 kg, then it's best to consider Sea freight because it's the cheapest but a little slow. However, if you want fast delivery, prefer Air Freight over Express Couriers because it's 20% cheaper and, at worst, takes about 20 days at max.
For heavy bulk orders, your only valid option is Sea freight because it costs $0.1 ~ $3 per kg, while express costs $15+ per kg. You can also choose Railway freight if you live in Europe or UK; it's 2x times faster than sea shipment but also 2x times more costly.
If you want urgent delivery and don't care about money, then your only option is Air Freight or Express Couriers; you prefer express service if your parcel is under 30 kg because it only takes them 7 ~ 10 days to deliver to the home address. However, if the parcel is 100 kg or so, then choose Air freight because it's a bit cheaper.
If you want to save shipment money and have months, then choose Sea freight no matter what because it will save your business thousands, if not millions, of dollars per shipment.
7. What is the cheapest shipping from Alibaba?
"China Post and Sea Freight are the cheapest shipping on Alibaba."
China Post is used for small packages, it is almost free, or the seller may charge a dollar or 2 for it. And by small parcel, we mean which weighs under 1 kg. But parcel shipping via China Post has a very high risk of getting damaged or lost.
Sea Freight is the cheapest shipping for all weights and sizes of orders. If you have a small quantity, then you can ship via the LCL method, and it will cost you only $1 ~ $3 worldwide. However, if you have parcels weight above 3000 kg, then you can opt for the FCL method, and it will cost you less than $0.1 per kg.
Quick Guide on LCL & FCL
FCL and LCL are the terms you will find in Railway and Sea Freight. Actually, in Sea & Raialy freight, cargo is put in containers, and then these containers are loaded on ships or trains.
So, when you go to a shipping company, they will ask you if your cargo quantity is and if it's equivalent to a Full Container load ( FCL ), then they will book a whole container just for you. However, if your cargo quantity is Less than Container load ( LCL ), they will put your packages in a shared container.
You can also book a whole container even if your cargo is not enough to fill a whole container, like in the case of a piano, car, or other important stuff. In this case, only your cargo will be in a container, and the rest space will remain empty during the whole journey. People usually do this to avoid damage or loss.
8. How to save Alibaba shipping costs?
Optimized shipping can help your lower Alibaba shipping costs by half or even 10x times, even if you plan everything ahead. For example, you can lower costs in the following ways;
Light & Confine Packing
Ship bulk quantities
Plan ahead and choose Sea Freight
Avoid custom inspection & additional fees
Hire a Freight Forwarder
1. Light & Confine Packing
As you already know, shipping companies also charge for size in addition to weight. So, always fix your item in a small & light box with the minimum possible protection ( balls, bubble paper, etc. ). So, the overall size and weight of packing will be less, which you save you a considerable amount of money.
2. Ship bulk quantities
The more weight, the better. All shipping companies lower their price as your order weight increase. For example, if you have a 100 kg parcel, you have to pay $2 ~ $3 per kg for LCL sea freight.
In contrast, if you have 3000 kg, you will be charged $0.5 per kg for FCL sea freight. So, try to order large quantities or wait and try to amass as many orders as possible in a warehouse in China and then ship them later together.
3. Plan ahead and choose Sea Freight
Sea Freight is the cheapest option for all kinds of parcels. So, give the manufacturing order to the seller five months earlier, and they will take around two months. Then you can ship via the cheapest sea freight, which will take two months to arrive at your place, and you will have one month left to spare.
However, if you order on time during peak seasons, it will not only delay shipment due to mass shipment traffic, but you will also have to choose expensive Air freight, which costs $5 ~ $10 per kg as compared to $0.1 ~ $3 per kg of sea freight.
4. Avoid custom inspection & additional fees
Incomplete documents and random inspections not only delay the release of shipment but also costs hundreds or thousands of dollars in fine. So, double, triple, or 10x times check all your documents to avoid delays.
Moreover, book a separate FCL container, and it will have low inspection chances because only your cargo is in it, and you know it's all ok. In contrast, LCL shared containers have high inspection risk because tens of suspicious cargo are present in them in addition to yours. And additional inspection means additional fees & delays.
5. Hire a Freight Forwarder
Unless you have been in this business for decades, it is impossible to complete a perfect shipment while sitting in another country. There are tons of problems that can happen in you rest everything on the seller and yourself, like;
Shipping delays
Carriers charging high rates
Incomplete or missing documents
Custom delays and random inspection fees
Unnecessary heavy and large packing extra shipping costs
Insurance claims take months in case of lost or damaged parcels
Almost 0% chance of getting documents from China after the order is shipped
And so on.
Sellers only care about their orders; once you pay them, they don't care if your shipment goes to a dump. So, if you tell them to book your shipment, they will randomly pick a company without negotiation that will charge them more and cause delays.
Moreover, sellers don't go to shipping companies to get documents that you will need to pass shipment in your country's customs. If a single document gets missing, neither the seller will respond nor the shipping company.
Plus, you will have to study for months to learn how to ship from China while sitting in your country, have to make hundreds of calls to sellers, solve custom problems, deal with carrier companies, pass documentation from Chinese & your government, and so on. All this can be a real headache, no matter how many times you have done it.
So, it's always best to hire a freight forwarder company that will handle everything from packing to carriers to custom clearance. They save you thousands, if not millions, of dollars per shipment, and if something goes wrong, they solve everything from China.
9. Do I need cargo insurance for shipping from Alibaba?
If you order something via Alibaba's official Trade Assurance method, then you don't have to do any kind of insurance because in case your parcel gets delayed, lost, or has quality issues, all your money will be refunded back to your account by Alibaba.
It is important to note that cargo insurance is necessary, and Alibaba does it yourself and charges you in the background.
However, if you choose a freight forwarder, they will do insurance from within their total fees, so in either case, you don't have to worry about anything.
Conclusion
As you already know that shipping & custom can add 30% ~ 300% extra cost to the actual product's price, which greatly lowers the profit or even end up resulting in a loss. So, always try to cut the shipping costs as much as possible, which is only possible if you plan ahead of your sale season and choose the sea freight, which is 20x ~ 30x times than Air & Express freight.
Moreover, you can also cut down shipment costs by optimizing packing and choosing the best courier company which gives huge discounts. However, you can't do all this by sitting in another country, and sellers don't care much. So, the best way is to hire a Freight Forwarder agent in China like Winsky Freight, who will do all the work from booking to shipping to customs and saves you hundreds of dollars per shipment, contact us now to get best shipping from China Alibaba to your destination.