FAST AND CHEAPEST TRANSPORTATION SOLUTION
DDP AIR, SEA & TRAIN FREIGHT
AMAZON FBA SHIPPING FROM CHINA
Shipping to Amazon FBA from China
As one of the best China FBA freight forwarders, Winsky Freight has been specializing in shipping to amazon FBA from china since 2010, we arrange Amazon goods shipping from China by DDP Air Freight, Sea Freight, and Railway freight. We can pick up your Amazon shipment from any of your China suppliers, and ship directly to the Amazon FBA warehouse.
Winsky Freight has strong ties with top-rated shipping carriers, so we can offer you the best shipping cost to the Amazon warehouse, having a reliable import custom clearance team, we will make sure all your shipping to Amazon can be handled correctly under local customs regulations, we have stable shipping space for the shipping to amazon fba from china, make sure Amazon can receive your goods on time in good conditions.
Contact Winsky Freight today for the best door-to-door shipping from China to Amazon.
Advantages to handle your Amazon Shipping from China
"Our partnership with Winsky has been very satisfactory. Over the last year, all our shipments from China to Various Amazon Fulfillment Centers in the USA have been consistent in delivery time and safety of packages. I see no reason to not continue working with such a reliable freight shipping company."
"I run a yoga & fitness supplies business, and with Winsky's Amazon shipping service the delivery logistics of my business have become super easy. Their reliability is unparalleled. Thank you so much. You should try them out."
"Very efficient freight consolidation and shipment to Amazon Fulfillment Centers. They delivered the frames shipment from multiple suppliers in China without a hitch. It was a real pleasure to work with Winsky. I will definitely use them again."
"As a start-up reseller company, this was my first major shipment from China to Amazon centers. And I didn't know what to expect, really. But the support team guided me through the whole process, and everything went according to plan."
"Winsky's Amazon Fulfilment Center freight option from China gave us great value for our money. And the support team was excellent to deal with. We were carried along all through the shipment process of our jewelry suppliers. We are really happy with your service."
The Amazon FBA Delivery We can do:
Amazon shipping from China to USA

Amazon shipping from China to Canada

Amazon shipping from China to UK

Amazon shipping from China to Australia

Amazon shipping from China to France

Amazon shipping from China to Spain

Amazon shipping from China to Italy

Amazon shipping from China to Germany

Amazon shipping from China to Singapore

Amazon shipping from China to UAE
Shipping notice from China Vendor to  Amazon warehouse
Many importers ship the products directly from the factory in China to an Amazon FBA warehouse. From there, Amazon manages the storage and distribution of these products. Amazon operates according to strict regulations. As a seller, you must comply with their rules. This is what you must know about shipping to an Amazon FBA center:
The cargo must be labeled in accordance with Amazon's cargo labeling policies.
The cargo must be palletized to facilitate quick unloading upon arrival. Each side of the pallet must be labeled.
The cargo shall be forwarded to the Amazon address, according to DAP or DDP terms.
Note that Amazon does not manage any shipping or customs clearance procedures. This is exclusively up to you as a seller to handle.
FAQ for Shipping to Amazon from China
How to ship to Amazon from China?
EmmayipWF
2023-04-19T08:38:47+08:00
You can ship directly from China factory to Amazon FBA, but it is costly and difficult to follow up shipping status, so it is better to ship from the China freight forwarder, ask China factory to paste the label of product SKU and carton FBA label in advance, then China freight forwarder will prepare the import and export custom clearance documents, goods shipped out by your confirmed shipping methods, local truck company or courier will deliver the goods to correct Amazon FBA warehouse after import custom cleared.
Shipping from China to Amazon Warehouse Procedures:
The FAQ Guide for Shipping to Amazon FBA from China
Shipping items from China to Amazon fulfillment centers can be challenging.
If you have never shipped any product to Amazon FBA, you will need to hire a freight forwarding company to help you, such as Winsky Freight.
Thankfully, this guide outlines everything you need to know about shipping to Amazon FBA.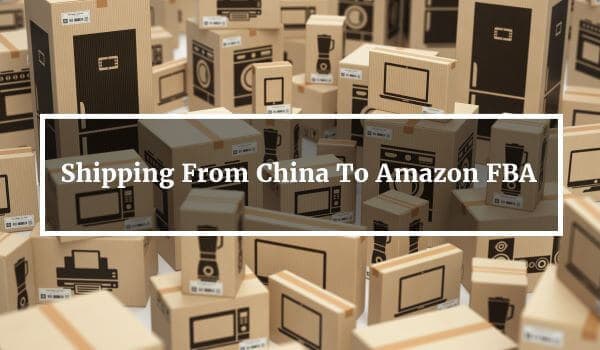 1. How to Ship to Amazon FBA from China?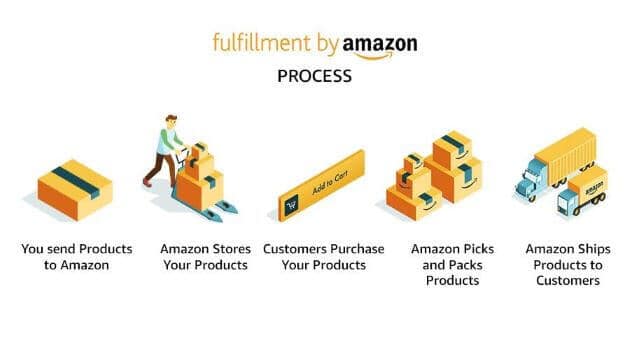 When transporting goods from China to Amazon FBA, you can ship them directly to an Amazon FBA warehouse or through a freight forwarder.
To ship to FBA Amazon from China, you can follow these steps:
Prepare your products: make sure they meet the FBA requirements, including labeling and packaging.
Find a reliable China freight to ship the goods directly from China manufacturer to the Amazon warehouses, they have economic shipping costs for shipping from China to Amazon, shipping options like Air freight, Sea freight, and Train freight with import customs clearance and duty service included.
According to your stock availability, select the suitable shipping way air, sea, or train freight to ship your shipment.
Track your shipment status with the tracking number and tracking site that your freight forwarder sent to you, after tracking shows delivered, check if the goods have already been checked in by the Amazon center, if there is any status abnormal, ask China freight forwarder to send the PODs, then you can open a case with Amazon service center, to relocate the items and check in the shipment then.
2. What Shipping Methods Can You Use to Ship to Amazon from China?
As you ship from China to Amazon FBA centers, you need a shipping method that suits your cargo best. Is it air freight, sea freight, or express shipping?
The transportation method you plan to pick will depend on your goods' weight, quantity, dimensions, nature, perishability, and transit time.
Here are the three different shipping methods to consider.
Sea Freight
As the name suggests, sea freight shipping involves transporting goods by ocean.
Sea freight shipping is ideal for transporting heavy and bulky cargo weighing above 150KG. It's also suitable for cargo with a volume of one cubic meter and above.
Sea freight tends to be slower than both air freight and express shipping. As a result, your goods can take around 4-7 weeks to reach the preferred Amazon warehouse.
According to your shipping volume, LCL (less than container load) and FCL (full container load) are the sea freight options from China to Amazon warehouse.
Air Freight
If you are looking for a faster way to transport your goods to Amazon FBA, you can opt for the air freight shipping method.
Air freight shipping is faster than sea freight and is ideal for transporting less than 200 kilograms (approximately 440 pounds) and measuring less than two cubic meters.
You can contact a reliable freight forwarder to arrange for air freight so you can enjoy faster shipping and lower shipping costs due to high-volume rates.
With express shipping, you can get your goods to Amazon fulfillment centers the fastest way through courier companies like UPS, DHL, and FedEx.
Express shipping companies usually base their charges on volumes and weights. So, the costs tend to increase as the weight and volume increase.
However, express shipping is ideal for transporting low-quantity goods to test an order's viability before ordering the products in bulk.
3. Benefits of Shipping Goods to Amazon FBA by Freight forwarder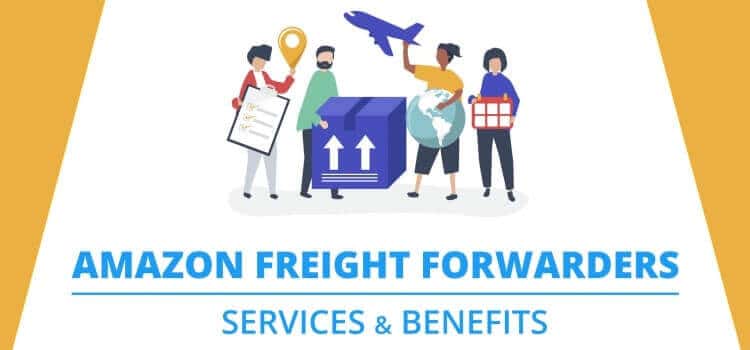 If you don't know how Amazon FBA shipping works, you need someone who does. That's where a freight forwarding company plays its role.
A reliable Amazon FBA freight forwarder can safely and efficiently move your goods from China to Amazon FBA.
So, when wondering, "Do I need a freight forwarder to ship my goods to Amazon FBA," the straightforward answer is "Yes."
Here are some of the reasons to hire a freight forwarding company.
Lower Shipping Costs: Freight forwarders offer their services at competitive prices, helping shippers save money.
Better Customs Handling: A good freight forwarder understands all shipping logistics to Amazon FBA, including customs clearance.
Additional Services: Besides facilitating the shipping process to Amazon FBA, freight forwarders also offer more services that improve shipping efficiency.
Better Rapport with Shipping Companies: Most freight forwarders have established relationships with other shipping companies.
4. How Can Winsky Freight Help You Ship Goods to Amazon FBA from China?
Here are the steps to follow when shipping from China to Amazon FBA with Winsky Freight.
Step 1: Get a Free Shipping Quote from Winsky Freight
When you contact us and provide us with cargo information and the supplier's location, we will send you a shipping quote that accounts for all the costs involved.
Step 2: We Pick Up the Goods from Your Supplier in China
After confirming the shipment for Amazon FBA shipping, we contact the supplier then request them to deliver the cargo to our warehouse for shipping.
Step 3: We Get All the Documents Required for Shipping
When we receive the goods, we'll organize the documents needed for shipping to Amazon FBA. That's because the shipping process involves many documents.
Step 4: We Prepare the Cargo for International Shipping
After getting the shipping documents, we arrange the goods' transportation by air, ocean, rail, or express shipping and forward to you a tracking number.
Step 5: We Send the Cargo to Amazon FBA
We will deliver the goods to the Amazon FBA warehouse through your preferred shipping company. That is after preparing them properly.
5. Which Incoterms Are Significant for Amazon FBA Shipping?
There are several Incoterms for Amazon FBA Shipping. For that reason, it's crucial to choose an incoterm that suits your shipping needs.
These are the most commonly used incoterms.
Free Onboard Vessel (FOB): The supplier transports goods to the preferred port in China and handles customs clearance and shipment loading. 
Ex-Works (EXW): With this incoterm, the supplier delivers the goods at their gate, and the buyer arranges for shipping from the factory to an Amazon warehouse.
Now that you know the two most popular incoterms preferred by most importers outside China, what do you think fits your shipping project?
Normally, EXW intercoms is the most convenient and cheapest option for you, only need you to contact the freight forwarder after you place the order with your China manufacturers, then Amazon freight forwarder can do the rest to you without any trouble.
6. How Long Does It Take for Shipping from China to Amazon FBA?
Your shipment time depends on the shipping method and destination for your goods.
For example, if you opt for express shipping, your cargo will take 3-5 days to reach an Amazon warehouse, while air freight takes around 8-10 days.
Conversely, expect your goods to reach Amazon FBA from China with sea freight in 25-40 days. For instance, shipping from China to an Amazon warehouse in USA takes 30 days.
7. How Much Does Shipping from China to Amazon FBA Cost?
When shipping from China to Amazon FBA, you might wonder about the costs involved.
So, how much do you expect to pay when shipping a 100-pound cargo from China to a USA Amazon warehouse? Here, the shipping cost can be $200-$500 by Air freight.
However, shipping from China to Amazon FBA involves many costs. For that reason, you need to confirm with a freight forwarder about the expenses.
Also, you should include the inventory fees and fulfillment fees.
The fulfillment fee for a standard-sized product ranges from $2.00 – $5.00, while an oversized product is $8.00 – $138.00.
Some of the expenses covered by the fulfillment fee are packaging, handling, and transportation. Conversely, inventory fees are the monthly warehousing charges.
8. How to Pack Goods from China for FBA Shipping?
When packing goods for fulfillment by Amazon, you must do that per Amazon's packaging standards. As a result, this will protect the products from damages during transportation.
There are two types of packaging: Product packaging and outer box packaging. These two packaging options have different requirements, as mentioned below.
Product Packaging Requirements
When packaging fragile items, use a polybag or bubble wrap to prevent damages.
Here are the other requirements to note during packaging for Amazon FBA.
Add suffocation warning labels to polybags with openings of five inches and above
Secure the barcodes on the polybag or packaging box, ensuring they are readable
Ensure that the polybag's thickness is not less than 1.5 millimeters
Confirm if the barcodes or FNSKUs correspond to a packaged product's variations
Outer Packaging Requirments
After packing a product with a bubble wrap or polybag, you might need to put it inside a master carton (outer packaging) to add protection.
For outer box packaging, here are some of the requirements to meet.
Attach a unique and readable to each carton
Each carton's weight must not exceed 50 pounds
Use six-sided cartons with intact flaps to add protection
The maximum dimension of each side of a standard-sized carton is 25 inches
Packaging Materials for Different Products
When packaging individual products, you can use different packaging materials, depending on the product's nature.
Here are the packing materials for different kinds of products for Amazon FBA.
Glass and fragile Materials – Bubble wrap or box
Liquids in plastic bottles – Transparent bag
Apparel, fabric, plush, and textile – Transparent bag
Toys and baby products – Transparent bag
Pellets, powders, and granular materials – Transparent bag
Sharp and pointed objects – Bubble wrap and box
Jewelry, flash drives, and key chains – Transparent bag
Pro Tip: When using bags for packaging, they must be transparent for visibility and have a suffocation label for safety. Also, they must bear a scannable barcode for tracking.
9. In What Circumstances Can You Palletize Your Goods for Amazon FBA?
When shipping your goods from China to one of the Amazon FBA warehouses, you might need to palletize them for ease of storage and transportation.
Palletization is the grouping of several cartons into a single unit known as a pallet. So, that makes transportation by forklifts easy in the warehouses.
However, Amazon doesn't encourage the palletization of goods.
That's why it's essential to find out when to use pallets for your shipment.
So, when can you palletize your goods for Amazon FBA?
The only circumstance you can palletize your goods for pre-shipping to Amazon FBA is when you are transporting fragile goods.
However, you must meet all Amazon's requirements for pallets, including:
Wooden pallets measuring 40 inches by 48 inches
GMA standard of Grade B or even higher
Pallets bundled with clear stretch wraps
Each pallet must have one shipment ID
10. What Documents Are Essential for China to Amazon FBA Shipping?
Since shipping from China to Amazon FBA involves a lot of paperwork, it's essential to know all the documents required for fulfillment by Amazon.
Here are some documents needed for shipping from China to Amazon FBA.
Bill of Lading: This document acts as proof of contract between the supplier and buyer, and it outlines a cargo's journey from China to the destination warehouse. A carrier must send a bill of lading to the good's receiver to claim it at the destination. 
Telex Release: This is an email sent to the destination port to allow a carrier to release your goods without having to present the original bill of lading. For that reason, it eliminates the need for an original bill of lading. 
Packing List: Outlines the list of things shipped to Amazon, including the number of cartons under shipment. The packing list must also highlight the cartons' weight and dimensions. In addition, its content needs to match those of a commercial invoice.
Commercial Invoice: Gets issued by the supplier to declare the number of goods supplied to the buyer and is needed for customs clearance. The document contains the cargo's country of origin and importer's and supplier's names and addresses.
11. Is Quality Inspection Necessary for Amazon FBA Products?
The straightforward is "Yes." A quality inspection ensures that you deliver high-quality products to consumers.
Besides, Amazon encourages its sellers to do a quality inspection to protect the buyers from purchasing low-quality goods and eliminate the risk of account closure.
Now that you understand the benefit of quality inspection, you need to arrange it with your supplier before shipping. As a result, it ensures that you fulfill Amazon's quality standards.
12. How Does Amazon Calculate the Storage Fees?
Storage fees are part of Amazon FBA shipping because your cargo will spend some time in the Amazon FBA warehouse.
So, how does Amazon determines the storage fees?
Amazon calculates the fees based on the per cubic foot space occupied.
When a conflict regarding the occupied space arises, Amazon's calculations win.
The monthly storage fee for a standard product ranges from $0.69 to $2.49, while an oversized product range from $0.48 to $1.20.
If your product stays at the fulfillment center for more than 180 days, you'll pay an extra fee for the overstay.
Pro Tip: Since Amazon updates its storage fees occasionally, ensure that you confirm the current storage fees before shipping your goods to its warehouses.
13. What Challenges Can You Experience When Shipping to Amazon FBA?
As an Amazon seller, you may experience a few challenges when shipping to Amazon FBA, such as:
Frequent Bans by Amazon: Failure to meet Amazon's quality standards can result in a ban. So, Amazon can close your account if your sell low-quality goods.
Poor Customer Reviews: Not everyone will like your products on Amazon, and that could result in lousy reviews. Unfortunately, poorly reviewed items don't sell faster.
Counterfeit products: Another challenge is the surge of fake goods in the market sold at relatively lower prices. As a result, genuine sellers end up making low sales.
14. What Should You Do When Your Goods Get Lost After Reaching Amazon Centers?
You've probably heard about goods sent to Amazon FBA getting lost, and you wonder what you'll do if that happens for you.
Well, the truth is that there are low chances that your goods will get lost upon delivery to Amazon. However, that shouldn't stop you from preparing for a loss.
Here is what to do when you lose your goods upon delivering them at Amazon.
Step 1: Contact the Amazon customer support team to help you investigate the issue and offer a solution.
Step 2: Provide your delivery receipt to prove that your goods got delivered and received at an Amazon fulfillment center.
Step 3: Provide the product invoice if Amazon consents that they are responsible for the loss. The invoice is ideal for compensation purposes.
15. What Are the Tips for Shipping to Amazon from China?
Shipping from China to Amazon FBA can be daunting. But with the following tips and ideas, you can be sure that you'll ship to Amazon smoothly.
Confirm the Product Standards: Before shipping the products from China to Amazon, you need to check if the product complies with the Amazon requirements.
Avoid the Supplier's Shipping Line: Since using the supplier's shipping line can be costly, always avoid it. Instead, hire an independent carrier to transport the cargo.
Determine Your Good's Size and Weight: Most shipping companies charge their fees based on size and weight. So, familiarize yourself with the size and weight rules.
Plan to Avoid Inconveniences: You must plan well to ensure that your goods get delivered on time. Avoid shipping during Chinese holidays as prices tend to be high.
Work with a Freight Forwarder: A freight forwarding company understands how Amazon FBA works and can help you deliver your goods on time.
Consolidate Your Cargo: When shipping multiple products to Amazon FBA, you can consolidate them to reduce your shipping costs.
16. How to Track the Shipping Status of Goods Shipped to Amazon FBA?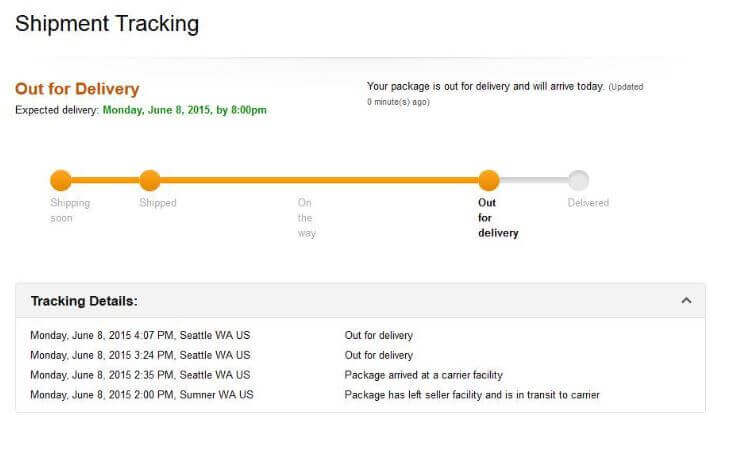 Most shipping companies have cargo tracking systems to help exporters and importers track their goods' movement in real-time.
So, when you ship goods from China to Amazon FBA, the shipping carrier will give you a tracking number to track your cargo's location while on transit.
You can estimate when your goods will reach their preferred destination with the tracking number. That will help you plan well to avoid inconveniences.
So, how can you track the shipping status of your goods?
Well, you can visit the shipping company's website and insert the tracking number to get real-time feedback. For example, some tracking websites may ask you to input your shipping company's name, bill of lading number, and container number.
17. How Can You Label Your Goods for Fulfillment by Amazon?
When shipping any pallet or box to an Amazon warehouse, it must have an FBA shipping label to make it identifiable.
It would be best to place Amazon's label on the original barcode or the outer packaging, whether a bag or bubble wrap.
So, what happens when the original barcode is on the product's corner or curve. In this case, put the Amazon label perpendicularly over the barcode on a smooth flat surface.
If the packaging has multiple barcodes, ensure that you cover them. The only barcode you should leave on the product is the Amazon product label.
If the manufacturer packs several units in a single case, ensure that every unit in the carton has the Amazon label, then remove the carton's barcode.
What if you send the goods to Amazon as pallets?
In that case, you must add four labels to each pallet by placing each label on each side of the pallet.
18. What Can Affect Amazon Shipping from China?
Many things can happen when shipping your goods to Amazon FBA, and some can affect your shipment negatively. The truth is, you wouldn't want that to happen to you.
So, here are the things to watch out for when shipping from China to Amazon FBA.
Chinese Holidays
Shipping goods from China during Chinese holidays can cause shipping delays, increase shipping costs, and increase goods' prices.
For that reason, you need to familiarize yourself with the holidays to avoid delays and high shipping costs.
An excellent example of a Chinese holiday is the Chinese New Year, when most suppliers spend together with their family members.
Quality Factors
Amazon usually rejects low-quality products, resulting in delivery delays.
You can avoid the delays caused by quality issues by investing more in quality assurance.
With the help of a quality assurance team, you'll ensure that Amazon accepts your goods.
If unsure about your product's quality requirements, you can test with a few items.
Conclusion
A lot goes into shipping from China to Amazon FBA. You must move goods from the Chinese supplier, organize the shipping documents, and hire a carrier.
Doing all of that by yourself can be overwhelming, and that's why you need Winsky Freight to help you ship your cargo from China to Amazon FBA.
Pls feel free to contact us for a shipping quote for your next shipment to Amazon.